Alright, this is focusing on indoor maps but is really a general mapping tutorial. This doesn't give you a step-by-step on mapping so if you're a beginner looking how to use the mapping tools themselves, this isn't what you're looking for.
Firstly, my suggestion on maps is always start small. Larger areas may seem fun and you might want a sense of vastness in some games but lots of open space is often an eyesore. Your characters in VX only take up a grid. You'd be surprised how well you can move around without giving them 10 grids worth of leeway.
Here is an example of a BAD map.
Here you have a simple indoor map. However, there is a lot of open floor space and very little furnishings. Overall very plain. On top of that, all those windows make it look more fake than filled in.
So then our little imaginary map-maker, Jimmy, says "okay, I'll just add more stuff." This won't end well.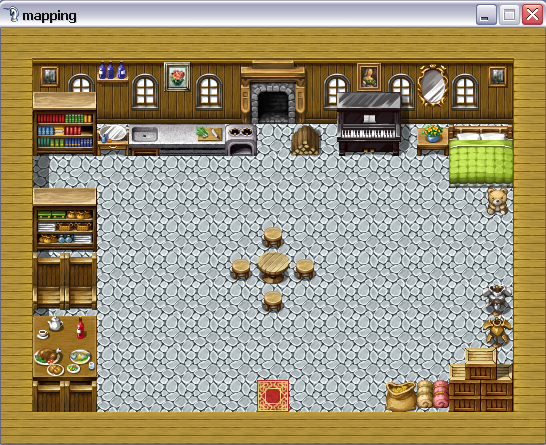 Yikes! Okay, now we have a random storage corner, two different dinner tables, random vanity between the kitchen and the bookshelf, another random shelf just below the bookshelf, bunches of pictures and such are now on the walls, and what the heck is up with the piano. Right idea with details, Jimmy, but we don't need random crap everywhere.
This is why smaller maps are more pleasing to the eye. However, Jimmy's maps are at the smallest size VX will allow. That doesn't mean that you can't fake it, though. Here is a much better indoor map. We'll start by creating the walls, ceiling, and floor, but we'll only create a ceiling along the top and left sides and the wall along the top, everything branching from the top-left corner.
Now that we've done that, it's time to decorate. Think of where things should be placed together and build from left to right. Only fill in what is necessary but fill in enough that you have some nice details and decorations. Here is my result.
Alright, I decided on smaller beds with a little stand between them. This whole house will only have two windows along the back wall, but less is more, so onward. There is a small kitchen, a bookshelf and a chair to read in. There is also a little table, but since I only have two beds I'm saying it's a couple and only put two chairs.
Looks pretty cute, but now we have a bunch of space to the right. It's time to close the house up.
I started just to the right of the chair and dragged a line of ceiling straight down along the screen. I also dragged some ceiling so there was two grids of space between the bottom ceiling and the table and chairs.
Now choose the black tile from the A tileset and make everything to the right and bottom of the ceiling completely black.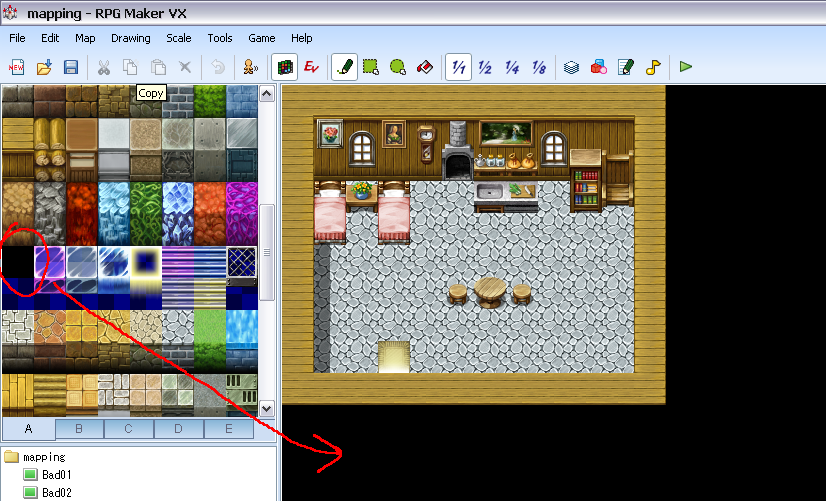 The black gives the impression that the map is much smaller than it really is. Now I just added a rug to show where the exit is and added the fading white light on it to help give that illusion. You can also just use the light to show the exit and use the area rugs to create a small rug in the middle of your map, but it's entirely up to you.
General Mapping Tips
Just some pointers. As stated in this tutorial, less is more. Often times, adding more to a map will lessen the look, not help it. Detail is good but if you're using a larger map this becomes clutter more than pretty.
Some things not to overuse indoors are windows and photos. You'd be surprised how fake and overly-symmetrical it can make a room look. Place these sparingly but in places where they count.
In outdoor areas, make sure you don't place shrubs and trees in straight lines or faking-looking positions, but at the same time, you don't want it to look too random. Randomly clicking about the screen with a decoration will not get the job done. My suggestion is just think of nature and where things normally grow together. Grass grows taller near water. Plants drop their seeds close to themselves so rather than have trees and flowers sprinkled they tend to grow in clumps together. For more ideas on things you can do to make outdoor places look great, specifically villages, I strongly suggest looking at
Black Shadow's Village Tutorial
. There is a lot of good information there that can also be applies to more than just what the tutorial is about.
Cave areas are the easiest to get away with large areas. If you want a vast cave that doesn't look empty, fill it with raised platforms. Make the platforms come out of darkness as if it's a long way up and the platforms will not only be easy to decorate but will look pleasing to the eye. At the same time, you've just made a huge map that will impress players.
Just remember to use smaller maps and instead of ADDING details, just PUSH details closer together. That way it looks like there's more detail in your map without the clutter.
Here is the project with the maps I used for my screenshots if you want a closer look.
Mapping Demo