NACHTWASSER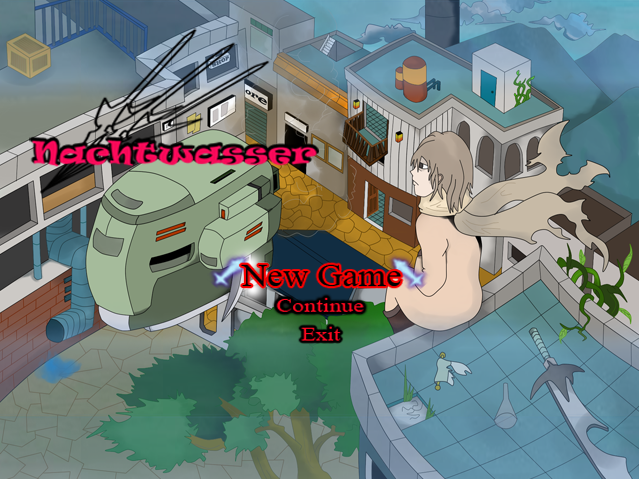 Abstract
: No apocalyptic world, No unrealistic-child heroine, no villain with his own reasoning to rule the world! Just live your life as a fantasy guild member of the Nachtwasser! Manga-twist story in each chapter!
Genre
: Fantasy
Engine
: RMVX
Story
What does it mean to be a guild member in such an-Ivalice-big world? Over 500 maps, so search your own levelling grounds, complete the sidequest, upgrade your suits, and enter the tournament in shine! Later chapter will reveal the true conflict within the game.
Setting
Swords and Magics, both used to be a power who rules the two side of the world. Until 700 years ago, a boy -later known as the King Annumuria- unite the both and brings peace to the land. Now, the steampunk-looking city and the fantasy-like mapping brings the chapter-like storyline to the MMORPG feels.
You're the guildmaster of Nachtwasser, help your member, make your own party member, do quests, recruits, and kick some serious-ass in the tournament. Feel the glory of your hard work.
Characters
-
Valhalleon Rain
, ??, Male. Swordsman.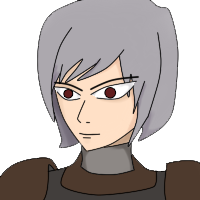 Lived 200 years before the main characters. The undefeated warrior of Frelington Noir, Nachtwasser's first guildmaster. His role in the game remains unknown..
-
Solvalou Rain
, 22, Male. Swordsman.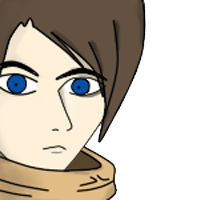 Guildmaster of the best guild in the city of Frelington Noir. He has to deal with all of the members, including the introvert expert members, which is way stronger than him, even the newest member. He's caring, mature(he's 24 for God sake!), attractive(since hes the only guy who wear a winter coat everyday), but still has a lot to learn. Especially from Jenazad, a sensei of him, and the best-self-proclaimed swordsman in the world(his world, but maybe not).
-
Sarah Rain
, 16, Female. Thief.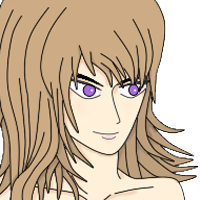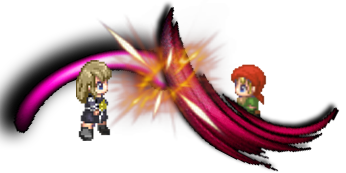 Think of an 16 girl, who lives her life within a guild full of strong and dangerous adult. Lucky she has a big brother who cares for her, and also sick of her. One of the many annoying member of Nachtwasser. Very agile, both in battle and making trouble.
-
Madison Crest
, 21, Female. Battle-Priest.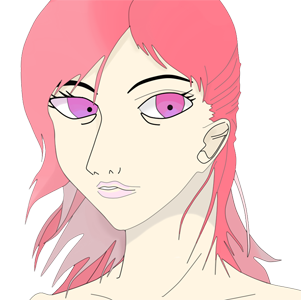 A very-straightforward girl, said to reject hundreds of people's love, and pretty reliable(only if you don't bring low-potions). People in the Nachtwasser is curious of what makes her popular among boys, surely not her brain and her charms. But maybe her boob-size, but who knows.
-
Helga Cornelia
, 22, Female. Magician.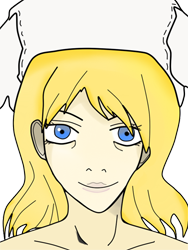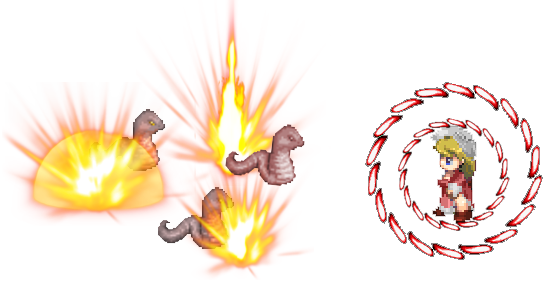 When you're talking about a childish girl on your neighborhood, then you're talking about this girl. And on top of that, she could be a non-sense, people-blaming, or quite a devil. But she has a talent to be a great magician someday, hopefully. Helga and Madi are under the same teacher, a fellow guild member, Lady Purple.
-
Gabriel Tribalt
, 26, Male. Knight.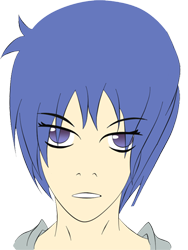 The only centaur left on the world. He was left alone after some tragedy that happened years ago. He found shelter in the Nachtwasser and trying to wake up from the past nightmares, and enjoy himself in the guild. One of the most serious member of the guild.
-
Jenazad Ikutski
, 38, Male. Swordsman.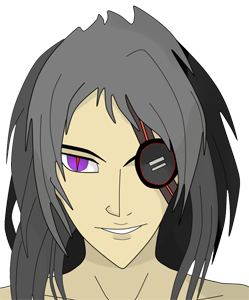 Not a guildmember he is. And he doesn't want to. Loves being alone, like a hermit, wandering to search and defeat all of the strongest warrior in the world. Despite of that, he's quite a skirt-chaser, and a caring person. He teach Solvalou many swordskills. Has a very unique ability to break apart dimension and moves his body somewhere so that he can be invisible for some time being. Very vulnerable to magic, especially lightning, all because he once saw an old lady in black who walks through the window of his bedroom during the heavy and thunderous rain. Silly. He is.
-
Grandia Cross
, 46, Male. Wizard.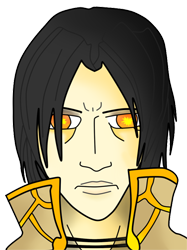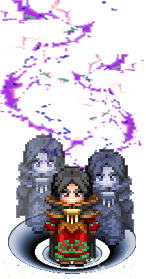 Strongest member of the guild, along with Lady Purple. Playable only through one chapter. Everyone in the town knows him, talking about him, and adore him. He was accepted as a member by Solvalou's father. He actually hates fighting, but his record in the tournament says the otherwise. Known as the ThunderGod, he's the one who makes Nachtwasser on top of it's popularity. Solvalou is very indebted to him. But a very very introvert person, and a super-serious one. Rumor says he could eat tons of fishes in a matter of lightning-second as well!
-
Deep Purple
, 40, Female. Wizard.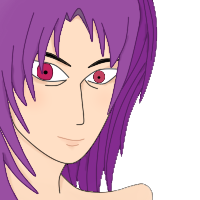 Master Magician, 2nd strongest after Grandia. She is the master of Madison Crest and Helga Cornelia. Mastering all kinds of magics, including the healing magics.
-
Anette Turunen
, 27, Female. Warrior.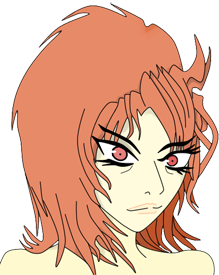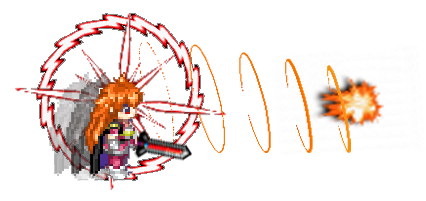 An attractive, well-known Phoenix-Warrior. An expert member of Nachtwasser. Giver her some time, she and Vergile will be as strong as Grandia Cross in both skills and eating skills...no.
-
Vigilante Vergile
, 28, Male. Dark Warrior.
The guy-version of Anette Turunen. Except, he is one year older and that's all. He has a really good luck, not that it's important. Mastering Dark Swordskills.
The Enemies :
The Sirenia Guild
:
Screen Shots
Monster Field
City Transportation
Training Scene
Guild Battle
Battle Scene
Map Enterance
Features
-SBS battle system, turn based system.
-Non-ingame-battle fighting events! The after battle 'fights' could take more than the real battle itself. This what makes it feels more like a manga-game, in which your character settle the business with their very own way(coolness guaranteed -hopefully lol), and it's shown on the screenshots.. Go check that uit!
-City and Map Landscaping! Yeah, I do care about how it looks, I really adore beauties of landscaping and the townscaping. For me, it's what the Final Fantasy XII claimed by the game-critics(not users lol) as the best FF series ever made. As a real civil engineering guy, I have the sense to make my building and mapping looks decent(not as good as most people though) and hopefully it does work here. <-the actual purpose of the game lol.
Credits
Charset :
-akura
-Milano-Cat (geocities.yahoo.jp)
-Sithjester
-Studio Pickles
-Vorpal Bunny
-Craig Randall
-Persomatey
-Crimson-penguin.com (ripped for own use)
-Heatpark - KoF Sprites
Character Arts
-Ndoelicious
Scripts
-SBS battle system
Original Script by:
Enu (
http://rpgex.sakura.ne.jp/home/
)
English Localization:
Kylock, Mr. Bubble, Shu
Contributors & Special Thanks:
Shu, Moonlight, NightWalker, Enelvon, Atoa, AlphaWhelp,
blackmorning, Mithran, Kaduki, Enu
(Edited for my own needs
)
-Location Window by Dorkfr3sh - E-mail:shamar.sabree@yahoo.com
-Woratana Multiple Fog Script
-Woratana Minimap Feature
-TDS Alchemy from Sephirothtds@hotmail.com
-TDS Resolution Change[VX]
-Battlebacks VX 1.2 by DerVVulfman, modified by k61824
Sound effects
-Soundogs.com
-bluelaguna.net : FF series, LoD, Mana Khemia, BoF IV, Ar Tonelico, Suikoden
Tiles :
Celliana, RPGXp, RPGVX, and RPGVXAce