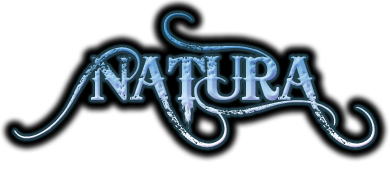 Abstract: Natura is an Action RPG released in 2009 by the Spanish team J&L.
It features a heavily modified version of Xiderowg's Action System,
beautiful RTP-based maps with a fitting atmosphere and an exciting story.
Genre: Action/Thriller
Engine: RPG Maker XP
Size: ~80mb
Gameplay Length
Natura is a full game. Its lenght is Moderate-Long (3-5 hours).
Story
After a seemingly eternal time in an unknown prison, Natura's protagonist is released only to narrowly avoid death at the hands of his twisted captor.
Characters

????:
Natura's main character is a nameless young man who doesn't have any recollection of ever being outside the place he is imprisoned in. His naive attitude will change as the story develops.
Dhaser:
His "heroic" intervention when he saves the main character doesn't go unnoticed, but his intentions are as unknown as his past.

Vernok:
A shady figure with a twisted sense of humour who appears to be behind the mysterious complex of cells the main character was in.
Nizav:
Once a prisoner as well, the young Nizav is a gifted warrior with unnatural abilities. He seems to be fighting for a just cause.
Lord Crevre:
One of Vernok's lackeys. His stubbornness and superiority complex make him a difficult foe to deal with, but his skills with swords and magic are beyond questioning.
Credits
Natura's resources (those that aren't from the RTP or made by us, that is) come from many (often hard to track) open resource libraries, old school games and other media such as films.
Music includes track(s) from John Murphy's 28 Days Later Sountrack, Uematsu's Final Fantasy 9 Soundtrack, Kota Hoshino's ACfA's Sountrack, Shiny's Sacrifice Sountrack, Mark Isham's Running Scared Sountrack, fairuzons and hanya.nce
Graphics include characters by landofshadows and many resources from ninesages.org and atelier-rgss.com
Includes scripts by Xiderowg, Moghunter, EOG, Ánemus, and edits by Metalero.
Natura's original character drawings are drawn by chilean artist Magochocobo.
Emily Poole helped us with the translation at some parts.
Screen Shots
Natura's screenshots
Gameplay Trailer
http://www.youtube.com/watch?v=55qMK-OWT8o
Embedded YouTube Video
Features
Script - ARPG System
(
Xiderowg
+ Edit)
Single player based ARPG with weapons, secondary weapons, etc.
Script - Custom Message Script
(
Moghunter
+ Edit)
Engine - Sprinting
(Original)
Many engines allow the player to run when a particular key is pressed. The speed of the player is a custom, appropriate one (instead of the default 1, 2, 3, 4, 5 and 6). It's part of the Stamina engine.
Engine - Stamina
(Original)
It shows the player's stamina. It is consumed when actions like attacking are performed. It recovers itself slowly when we don't do anything.
Engine - Akk's
(Original)
Automatically used objects that provide the player with some extra stamina. It is a very important factor in long battles.
Engine - A.I.D.'s
(Original)
A.I.D.'s (Akk Instantaneous Dispenser) are equipment that change the way Akks are used. Each one has a different purpose.
Engine - Suspicion
(Original)
At some point in the game, the player will have to go through an hostile environment without becoming too suspicious. If the suspicion bar is filled, the game will be over.
Engine - Custom Shop
(Original)
Engine - Pull & Push
(Original)
The player can push and pull some objects in a realistic way.
Script - Max. Item limit
(
Moghunter
)
Script - Custom Title Scene
(
Moghunter
+ Edit)
Script - Custom Menu
(
EOG
+
Metalero
+ Edit)
A custom single player menu by EOG with edits by Metalero and us.
Engine - Conversations with portraits
(Original)
At some point during the game, conversations will be shown with pictures instead of text (with each character's drawing, too).
Known Issues
The .exe installer is in Spanish.
The pull and push system has an exploitable bug: you can keep pulling any object through yourself forever.
The bow seems to glitch and do 0 damage sometimes for unknown reasons.
Since this game has been translated, there is a chance that something was left untranslated.
Download
Natura (English) Download Link
Some other things
The translated version of this game includes a super boss that wasn't in the original Natura (and some great Final Fantasy 4: The After Years' music to go with it!).
Here you can find a public package of RTP-based resources from Natura by J&L.
Please don't spoil anything about the game's story when you post. Thank you!
-J&L