Seven Heroes: The Remake
Abstract
: You are the ruler of the city of Avalon. The land now lays waste, ravaged by the very heroes who once saved it. Can you restore peace to the land?
Genre
: Fantasy
Engine
: RMXP
Objective of Project
There are two project objectives
1. this game was never translated from Japanese to English. Mana Sword tried to do one back in the early 2000s, but it never got beyond the first 5%.
2. create a base engine that we can use for the NEXT project release, this time going after a more original work.
Team
I currently have the following positions on the team
Project Manager: That's me. I've already blocked out what kind of work needs to be done, and about 80% of the design is already finished.
Coding: I will endeavor to do as much as I can, but help is always welcome. Given the amount of the work that will be going into it, I would definitely appreciate the help. I ESPECIALLY would appreciate someone who understands the coding behind the tankentai SBS.
Spriter: I have a pretty good idea WHERE the sprites are coming from and how I would do it. My problem is simply speed and volume. As you can see from the feature list below, the game allegedly has over 250 characters to play as. This means the spriting needs are going to be immense. Having said that, of the 250, you really only have about 50 or so unique sprites and the rest are just palette swaps. (with different stats behind them, of course, but still palette swaps) The real work that needs to be done are also on creating the special effects like weapon effects, spell effects, etc.
Sound Tech: I have the music, but I'm not sure what to do about a lot of the sound. Extracting it raw from the original might be difficult.
Translator: this is actually one of the CRUCIAL roles I'm missing right now. One of the main objectives of this remake is to translate the game so that a western audience can get a chance to play it. Problem is, I don't speak Japanese. While I have a rough idea of what is going on in the plot, I know for a fact that I am probably missing a LOT of nuances in the dialogue as result of this language gap.
The project will be internet based, and I've already located tools that we will use to do the job and do version control. Obviously, there will be a lot of fine tuning that needs to be happen before the team will work smoothly, but I'm confident that as we go we'll work out the kinks and things will start moving smoother.
Story
Years ago, the world was threatened by a force that was beyond humanities comprehension. Seven heroes rose to defeat this great evil, but paid the ultimate price: their own lives. Eons later, the Seven heroes came back, but as something far more sinister. Scorned by their exile, they demand that the world pay retribution for their sacrifice. The Seven carved up the land and formed their own fiefdoms, enslaving the world once again.
Characters
Leon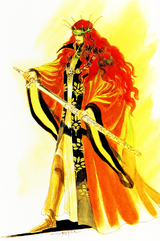 Leon is the warrior king of Avalon. He has great ambitions for his kingdom, and has shown great passion for his people. His swordsman skills is unmatched in all of Avalon. As all fighting men, he is passionate, fearless, and possesses a strong heart. His only worry are his two sons, whom he one day will have to hand over his kingdom to.
Victor
Victor is the eldest son of Leon. As the eldest son, he is the one who will succeed Leon when he dies. Just like his father, Victor is strong, brave, and is showing great talent for the sword. Some even believe that Victor may one day surpass Leon himself.
Gerard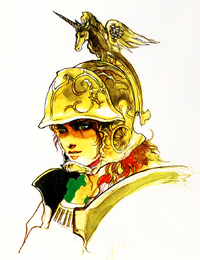 Gerard is the second son of Leon. Growing up in Victor's shadow, Gerard has shied away from the sword and is instead more interested in pursuing academia, much to the consternation of his father Leon. As such, Leon will often drag Gerard along with him on expeditions in a failing attempt to toughen up his son.
Credits
Astute posters will note that this is actually a remake of one of Square's earlier SFC games, Romancing Sa-ga 2. All materials will try to faithfully replicate this game.
Sprites from spritedatabase.net
Music was extracted directly from game
Sideview battle system from Tankentai
design will be extracted from the game itself
Screen Shots
screen shos
Features
- a succession system: this game is not just the story of a single group of characters, but a story of an entire dynastic succession of characters.
- ruling mini-game: those of you who have played romancing saga 3 as Michael will be no stranger to this. As Emperor, the welfare of your people lays not just in your ability to defeat monsters, but also in your ability to manage your kingdom.
- Formation system: use different formations to enhance your capabilities in battle!
- Tech Sparking: learn new skills in the heat of battle!
- multi-tiered map system
- Over 250 characters to make up your party
- Sideview Battle System
- Open ended multi-branching story system, experience the game differently through each play through!