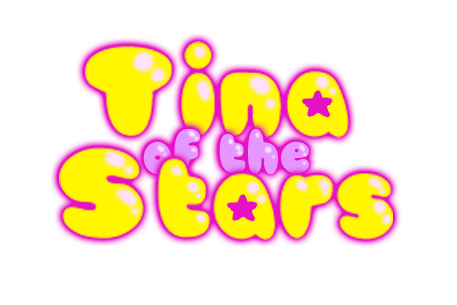 Abstract
: Take the role of the cute fairy Tina as she treks across three dangerous worlds to save her fellow fairies! Inspired by the game "Pacman"
Genre
: Action/Puzzle
Engine
: RPG Maker XP
Download
Tina of the Stars Final release v1
Click To View
Click to View
Tina of the Stars is an action game with a focus on clearing the level within a given time. The objective of the game is to clear out all monsters on the screen. Unfortunately, Tina is very weak early on and a single touch from an enemy can kill her. However, every level is filled with stars for you to collect. Once you get all the stars in a stage, you can achieve your "powered" form and go on a rampage!
Controls:
ARROW KEYS:
Move Tina
'A' KEY:
Pause the game
... That is all you need to play Tina of the Stars!
Game Objects:
HUD:
These include you Lives and a timer. You are given a maximum of 3 lives in the game. If Tina comes in contact with a monster outside of her powered form, she will lose one life. If all lives are lost, then the game is over.
Tina can recover lives in two ways. The primary way is by eating a magical fruit called a Peacheak, which appears randomly when an enemy is defeated in Tina's powered phase (you will hear a sound confirming its presence). The second is by successfully clearing the 2nd bonus stage in the desert world of the game. Note that both life gains will only occur if you are below 3 lives.
Every level has a unique amount of time for you to complete, displayed at the upper right hand corner of the screen. If the timer runs out, the "Perforato" enemy will appear and kill Tina, costing you a life. It is recommended that you keep moving to collect stars and defeat foes to avoid running out of time.
STARS:
Stars are scattered about each level. Tina must collect all these in order to obtain invincibility and defeat the monsters in the field. There are certain areas, like the bonus games and final boss battle, that don't require stars to complete.
MONSTERS:
Every area, except for bonus games, has a certain amount of monsters you need to defeat. Initially, Tina is vurnable, as if she comes in contact with a monster before collecting all the stars, she will lose a life. However, when Tina becomes powered, she is immune to monster attacks and can defeat them by walking straight into them. The "punched" monster will be launched towards a wall and explode, turning into a gold coin. Tina may collect these coins to convert to bonus points at the end of a level.
Special Areas:
BONUS GAME #1:
This is a game where you attack as many "Targit" enemies as possible to gain points. The game ends once the timer runs out.
BONUS GAME #2:
This is a memory game. Tina is required to form a shape out of pink blocks within a given set of time. If Tina touches a "good" block, the block will be destroyed, but if Tina touches a "wrong" block, the game will end, and no bonuses will be rewarded.
FINAL LEVEL:
This is the only boss fight in the game, the time where Tina finally faces Lord Grimm himself. Put your skills to the test and defeat Grimm for the good of your planet!
Tips:
- Try to learn the movement patterns of the enemies in the game. You can find ways to exploit these patterns to your advantage.
- You do not need to collect all of the gold coins that pop out from monsters to clear the level. If you are running out of time, make some sacrifices.
- The faster your clear time, the more bonus points you will receive during the end of a level.

Click to View
Graphics:
> Green Raven (Tilesets)
> Mea (Animations)
> Ccoa (Star/sparkle characterset and Animations)
> Myself (Charactersets and a few Autotiles)
Sound:
> Jun Chikuma
> Clickteam (Multimedia Fusion sound package)
> vgmusic.com
> Sonic Team
> Ragingmullet
> Sillythewilly
Scripts:
> Punk/Punkid (Score display script)
> Moghunter (Scene Title)
> Trickster (Looping animations)
> Ccoa (UMS)

- Pacman-styled, non-RPG gameplay
- Colorful graphic environments
- Fun, easy to pick up game designed for replay value.
- Two planned gameplay modes: Normal Mode for beginners and Challenge Mode for advanced players
Progress
Levels: 100% done
Scripts: 100% done
Graphics: 100% done
Event System: 100% done
RRR COMMUNITY TOP 10 PLAYERS:
Beaten the game? Got a sick score? Post it here to make it to the list!
Normal Game:
-
-
-
-
-
-
-
-
-
-