Aesparia

Abstract
: Gather you and your allies, as you explore the world of Aesparia!
Genre
: Fantasy
Engine
: RPG Maker VX Ace
Story
The time for mourning has past. The Kingdom of Hilian has just finished rebuilding after a large civil war within it's own walls against the Mad Prince. You play the role of a traveler, making a name for themselves in the Kingdom of Hilian, as well as the whole continent of Gallavis. However, it is still not at time of peace. The Holy Empire of Zaurwen is still kept in check at the navel borders, while the army from the fallen Iron Kingdoms of Unadaer appear to be rebuilding, this time under the rule of it's crazed court mage. The world is yours to explore...make of it what you will!
Setting
The story takes place in the continent of Gallavis, a land filled with a radiant, yet dark history. Three kingdoms rule over this continent.
Free Kingdom of Hilian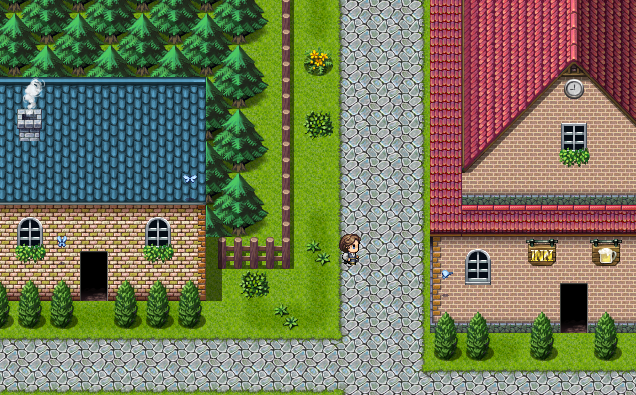 The Free Kingdom of Hilian's mark in the history books was written with blood spilt from it's citizens. Ruled by Prince Barius, who when became king, began a violent war with their enemies, the Iron Kingdom of Unadaer, while butchering his own citizens who stood in his way. It was only discovered by Hilian's now current King, Lord Leoheart, that Barius was possessed by a demonic seed...an entity know as Bovid.
After the Mad Prince's defeat, a darkness fell over the land, forcing it's inhabitants to flee. It was only a decade ago when Leoheart led his people back to begin rebuilding the kingdom. Unfortunately, the remnants of the Bovid entity still remain within Hilian Castle. Leoheart, as well as his bravest warriors, plans on taking the castle back in a final push for Hilian's freedom. Will you lead the charge?
Water Kingdom of Aeland
.
The Water Kingdom of Aeland, while one of the oldest kingdoms of Gallavis, also had a history of keeping business within the walls, not interfering with other kingdoms. Only recently has their hands been stained with the blood of War from Hilian's Mad Prince, as well as the Holy Empire of Zaurwen, and their mad conquest for more land.
Although the Kingdom was able to survive such assaults, it wasn't without tragic losses. The Water Kingdoms lost it's King, as well as his daughter from the guile of Mad Prince Barius. Only a decade ago, it's Prince, now King, Yoshira Aeland, took rule, and formed an alliance with Lord Leoheart of Hilian. Even now though, the Holy Empire of Zaurwen still threatens their borders. Will you be able to beat back this Holy nation?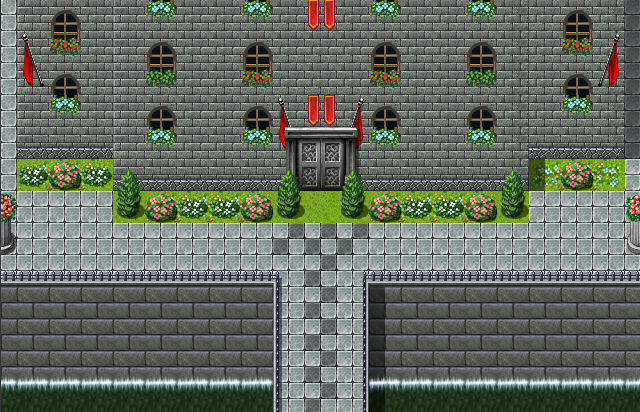 Iron Kingdom of Unadaer
More to come...
Characters
More to come...
Credits
Tileset - Mack
Scripts - Yanfly
Music - RPG Maker 3
Screen Shots
All maps are currently W.I.P.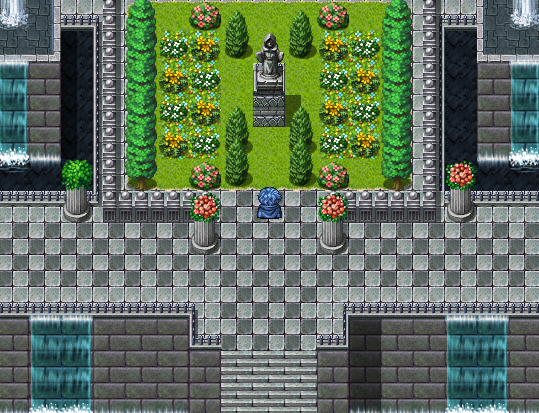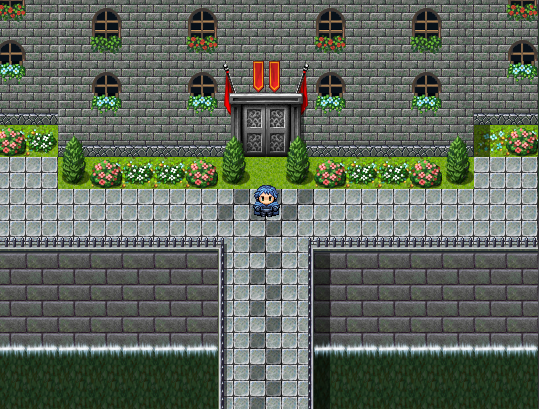 Features
Custom Party: Form your party by choosing from a list of classes:
-Soldiers: Soldiers are your basic melee fighters who can on their off hands hilts (increased ATT) or shields (increased DEF). They have no major strengths and weaknesses, exceeding in the front line.
-Duelists: Duelists are experts of offensive fighting styles, allowing them to equip two weapons. They have weaker defenses and HP compared to their melee counterparts, however, they do have a higher dodge.
-Phalanx: Your heroes of the front line. While Phalanxes do not make for very potent fighters, and can only equip shields in their off hand, they are the stalwart of defense, with an increased threat against enemies, as well as increased defenses and HP.
-Scholar: Powerful mages who has studied the Runes of Life, and created powerful scrolls and spells to increase there arsenal of magical abilities. While they have very weak physical defenses and HP, they have the most MP in the game, as well as the highest Magic Attack. With their Magical Veils, they are not attacked as often as their allies. In addition, they heal MP on their own, allowing very little downtime to recharge magic in the middle of a fight.
-Cleric: Clerics are the front line support, proving the strongest healing abilities. They also have average stats in all, allowing them to be semi-formidable fighters.
-Bard: The bards are the jack of all trades, able to cast a variety of spells, and be formidable melee fighters. In addition, they can learn songs, which provide buffs (both single target and party wide) and Dirges which can weaken their enemies.
Crafting:
Crafting allow for the creation of weapons/armor/items
There are no recipes, just base items.
All weapons and armors are made from 1 Ingot, which made with 20 ores.
The power of the item depends on the following factors.


Materials Used
Your own crafting level
Luck
Trading
There are Traders all of Gallavis
They will buy your items, or sell you theirs.
They offer one Deal a Day, and are better then what you can get at shops
As you deal with Traders, you can haggle for better deals/prices
Be careful...as haggling may offend Traders. If offended, they will not trade with you for the day.
Day/Night Cycle
The world is different, depending whether it is day or night.
Day is peaceful, people and traders are outside living life day to day.
Night presents with more challenging Quests/Monsters
The Blacksmith completes his work orders during the night, presenting you with Crafting Quests if you stay indoors.
Farm
Purchase a Farm!
Plant Seeds to grow Alchemical Ingredients
Expand/Explore your Farm's Mine for respawning Ores.
Fish for...well...Fish, that can provide Permanent Stat Boosts!