Great Game Systems: An analysis of Persona 4
"A game is a series of interesting choices" - Sid Meyers
I've been thinking about what makes my favorite games so great. The common factor I find is that they make me feel in control of the main character and emotionally invested in the world the game creates.
A lot of people of the forums (myself included) have been mentioning
Shin Megami Tensei: Persona 4
in our feedback, citing it as an example of good game design for various reasons. Persona 4 is one of my favorite video games, so I would like to offer an analysis of its game system and what makes it so awesome.
As many of us are realizing, game systems and story should compliment each other, and they certainly do in Persona 4. Therefore, I will need to explain the general plot to explain the game mechanics (no spoilers, I promise). I am not going into the mathematics behind the system - you can read all about that
here
- but give an overview and explain how everything works together. Another and much shorter article that may be helpful can be found
here
.
For those who do not know, Shin Megami Tensei is a series of games with different stories but overlapping themes and some recurring characters (like Final Fantasy). Most of the Shin Megami games are set in a modern, real-life place and revolve around helpful and malicious demons. Persona is a sub-series that focuses on high school students who gain the power of a persona, or spirit representing their true self, to fight evil creatures called shadows. The game is part sim game and part dungeon crawler with a heavy focus on story. Game progression is broken into calendar days and the player is allowed to make a certain number of choices each day. Each choice affects some parameter in the game, which in turn affects other parameters that allow you access to new game content.
Here are some of Persona 4's general strengths I will elaborate on in this post:
-A very unique story with well developed characters
-Logical integration of story and gameplay
-A large amount of player choice allowed
-Interdependent character parameters
-A battle system that is simple but requires a lot of strategy
-A very complex yet easy to use skill fusion system
*Note: when talking about persona in plural form, I will use personas, not personae.
Plot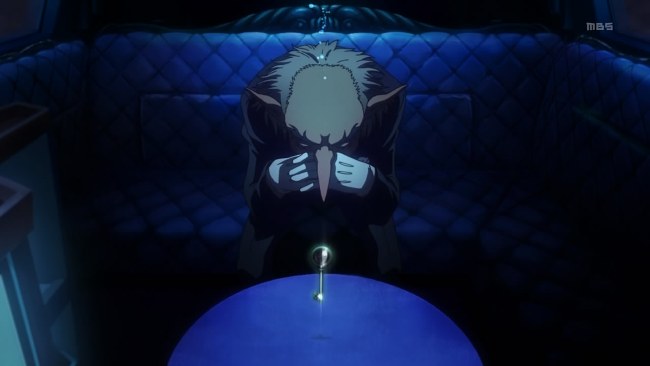 Persona 4 begins with the main character dreaming of being in a gothic-looking lounge with a creepy old man named Igor. Igor asks for your name, and the player gets to name the silent, blank-slate protagonist (according to the internets, his default name is supposed to be "Yu" - get it? -so I'll just call him Yu). Igor tells Yu that he will soon encounter a misfortune, but he will grant him the power to overcome it.
The year is 2009, and Yu has just moved from the big city to the small Japanese town of Inaba to live with his uncle, Dojima, and his little cousin, Nanako. At school he befriends Chie, a dorky girl, and Yosuke, the jokester son of the owner of Junes, a giant department store chain that has recently put all local businesses in Inaba under (think Walmart only worse).
Then strange things start happening...like a local celbrity goes missing and then is found dead hanging from a telephone pole. Around the same time, a rumor spreads that if you watch a usually static-filled channel at midnight when it's raining, you will see your true love on TV. Yu watches the midnight channel and sees a girl from his school, who is found dead in the same fashion the next morning. For some reason, Yu reaches out to touch the television screen...and his hand enters the TV. He tells Yosuke, who it turns out worked with the dead girl, and they venture into a big screen TV in June's electronics section.
The two find themselves in what looks like a movie studio filled with fog. It is home to Teddie, a human-sized animatronic bear, and shadows, scary creatures that take the shape of your subconscious fears and kill you. Yosuke is attacked by his shadow - a bratty and selfish version of himself - but fortunately Yu has the power of Persona, given to him by Igor, and defeats the shadow. Yosuke is able to accept his fears and his shadow turns into a persona. They decide that the two victims were tossed into the TV world and killed by their shadows, and now that they have the personas and power to fight shadows they should take action to prevent future deaths.
Soon after going back home, another girl from Yu's school, Yukiko, appears on the midnight channel, and sure enough she disappears. Yu and Yosuke drag Chie into the TV world to save Yukiko. Yukiko is the daughter of wealthy inn-owners who wants desperately to break away from the family business and be her own person, so her shadow is a princess in a castle waiting for her knight in shining armor. Chie meets and Yu and Yosuke beat Chie's shadow, giving her a persona, and they quickly do the same for Yukiko. The four band together to solve the mystery of who is throwing people in and saving them from shadows.
Next to appear on the midnight channel is Kanji, a tough leather-jacket wearing biker who is a closeted homosexual and is tortured by his shadow, his flamboyant doppelganger who lives in a gay bathouse (yes, one of the main characters is gay. If that bothers you...grow up and come back when you get over it). The journey continues in this fashion until you have a full cast of colorful characters who are able to solve the mystery of who is throwing people inside the evil TV world.
Basic Gameplay
So, after 3 hours or so the game actually begins (don't worry, it was worth it). Gameplay is split between exploring the TV world to save people and participating in events during the day. You have a time limit to save each person from the shadows, but beyond that the game is open world. By day you go to school. After school you can choose to shop, play a fishing mini-game, hang out with people or join a club, eat spicy tofu, get a job, get a date, or fight shadows inside the TV at Junes.
So why would you do anything other than just go through the dungeons and skip all the b.s.? Well, the game won't let you because you have to do activities to make the days progress; but also, everything you do during the day has an effect on your performance in battle. Spending time with different characters (which means talking to them, getting a cutscene and some backstory about them) grants you status bonuses when creating certain persona. Working gives you the money you need to buy equipment and weapons. Some activities increase one of five personality traits, which are needed to make friends with different people. For example, eating spicy tofu at the local diner increases your courage, which you need to ask girls on dates, which grants you more status boosts for your personae. Some of the cutscenes are long but usually well written and enjoyable to watch. Here is an outline of the trajectory of a typical day in Persona 4:
Morning
School (may get asked a question - if you answer correctly your knowledge personality trait increases)
Afternoon - You have the options of
:
-Hang out with friends (increases status bonuses to personas/ playable characters gain new skills in battle)
-shop (buy equipment and items)
-fish (you can trade fish for rare items)
-do some fetch quests (gives you items)
-go out to eat (increases various personality traits)
-work (gives money and increases various personality traits)
-go inside the TV to fight shadows and save the current victim
Evening - Options of
:
-hang out with Dojima or Nanako (adds bonuses to personas)
-make lunch (increases traits and allows you to have lunch)
-read (increases various traits)
-work (gives money and increases traits)
-study (improves knowledge)
-sleep (you must go straight to bed if you went inside the TV that day - occasionally you have weird dreams about your friends. My favorite line in the game: "You had a dream that you and Yosuke were wearing Luchador masks and wrestling...you feel your relationship with Yosuke will deepen soon...").
The harmony between the sim game and the dungeon crawler is beautiful - it makes perfect sense that improving Yu's personality traits would let him befriend new people. Since personas are representations of the user's personality, it makes sense that building friendships makes Yu's personas stronger, and that getting closer to your party members improves how you work as a team in combat. Seeing an immediate reward for nearly every action you make entices the player to keep playing (this is the key to success of social games like Farmville), and the time constraint on saving people creates a sense of urgency that has costs me hours of sleep. The vast amount of choices throughout each day gives a massive sense of freedom, and makes me feel more attached to the characters since I get to choose who I learn more about.
Game Parameters
1. Social Links: Spending time with different characters (which means talking to them, getting a cutscene and some backstory) grants you status bonuses when creating persona, and when you spend time with playable characters they sometimes learn new skills in battle. Each social link is attached to different types of persona (categorized by the different arcana of the Tarot) and give bonuses to persona of that arcana when your main character creates them.
2. Personality traits: These affect what you can do during the day. This is what they are, some examples of how they are increased and the rewards for doing so:
-Knowledge: increased by studying, reading and answering questions correctly in class; doing well on tests increases social links with your school friends, Dojima will give you money for doing well on exams and knowledge will allow you to take cushy jobs like translating from home.
-Understanding: increased by working as a babysitter and making oragami cranes; grants access to new social links
-Expression: increased by attending cultural club meetings, tutoring and translating; grants access to certain quests and social links
-Diligence: increased by attending sport club meetings or taking an envelope-making job; allows you to fish for longer at a time, improves some social links and and grants access to better jobs
-Courage: increased by eating rotten food, defeating bonus bosses in dungeons, taking a third shift janitorial job in a hospital; needed to access certain social links
As you can see, many of these parameters are interdependent and improving them often gives more than one reward, so no action the player makes feels like a waste of time. The structure of the system requires that you vary your actions each day to be well balanced in battle.
Battle
The heart of any RPG is the battle system. Persona 4's is turn-based. You can have a party of four characters (there are 7 in all), one of which must be Yu. All characters other than Yu have a single persona skill set, while Yu can carry several personas (the number increases as you level up). Yu may switch personas once per turn.
There are seven elements: Fire, Ice, Wind, Lighting, Light, Darkness and physical. Each character has elemental weaknesses and strengths tied to their personas, and Yu's are decided by the persona he has equipped. Enemies also have strengths and weaknesses. If you hit an enemy with its weakness, the enemy falls over and you get to attack again. If you knock all enemies down, you can do an all out attack, in which all of your party members attack all the enemies at once, dealing massive damage. Of course, the same all applies if the enemies hit your weaknesses. This means that battles can end very quickly, in or against your favor. The key to battle is making sure you have the persona with the elemental attacks the rest of your party do not have. Every battle requires a unique strategy, so you can't just "mash X" like in so many RPGs.
The attachment of skill sets to personas both simplifies gameplay and adds an extra element of strategy. Your character could have access to over a hundred skills, but he can only have a maximum of eight equipped at a time, so you don't have to scroll through ridiculously huge menus. You also have to take into account how equipping persona/skill sets affects your elemental strengths and weaknesses. While all the usual RPG status traits (physical attack, magic attack, defense, agility, etc.) improve by defeating enemies and gaining experience points, the majority of the main characters' stats are dependent on the equipped persona. You may think of each persona as its own job class.
The Persona System
So how do you get personas? At the end of each battle you get to play Shuffle Time!, a mini-game where you can win personas, get status boosts or penalties. You can also fuse persona. The combinations and products of fusions seems nearly endless, but are determined by a specific formula. Personas are assigned arcana types based on the Tarot, and combining two different arcana types makes a persona of another arcana. For example, combing a Fool persona with a Magician persona always makes a Temperance persona. The level of the selected personas are averaged together and 1 is added to that number, and the product of the fusion is the persona whose base level is closest to that number in it's products' arcana set. For example:
Fool persona level 12 + Magician persona level 14 = the Temperance persona Xiezhai Level 16 (because it is the persona in the Temperance arcana whose base level is closet to the number 14)
While that all might sound complicated and intimidating, you really don't need to know the formula to make good decisions. In fact, I do not recommend playing this game with a players guide (see my warning below), as much of the fun is in experimenting. You can always see the product of a fusion before committing to it and view the bonuses that persona will get based on your social links. Fusion usually requires the player to make decisions like: "Persona A has a strong fire spell that hits one enemy and is weak to ice, Persona B has a spell that heals all characters and is weak to wind, should I fuse them to make Persona C which has a weaker fire spell that hits all enemies, a healing spell that restores more hp to a single character and is weak to wind?"
There are 179 (!) personas in all, which means you'll constantly be getting new and better ones without trying, and although many are similar, each carry a unique combination of abilities that requires you to switch up which ones you use. As a bonus, each persona has a unique animation in battle.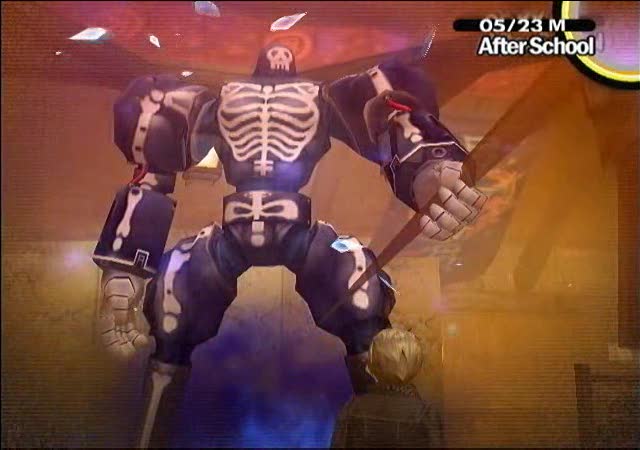 Conclusion
Dividing these sections up was difficult because they all fit together so well, and the easiest way to understand the system is to play it. The story is so well written that I became emotionally attached to the characters: I had trouble being mean to Nanako even though she's annoying, I tried hard to get a date with Yosuke only for him to ask me to punch him in the face, and in my first play through I got statutorily raped in a hospital....yeah.
I recommend playing this game to anyone interested in studying RPG game systems, or anyone who just enjoys good games. However, one major precautions:
there are several false endings, and you must make very specific choices near the end of the game to access the last two dungeons and the true ending. Once you get to the end of the fourth dungeon (the video game world), try to figure out who the killer is on your own (I didn't guess it at first, but after playing through again I'm kicking myself from not knowing sooner) and consult a player's guide on how to get the true ending
. Trust me on this - you do not want to get 40 hours into the game and realize you cannot access the final two dungeons unless you start all over again.
Anywho, I'll stop now so you an go play :-) Please feel free to comment or make posts about your favorite game systems.