Need Artist for slight modifications to default RPGMXP characters.
Basically, the RPG I am working on has some hentai-ish tones to it in which at times I need a nude version of the default hero/player/actor battler (and also character actor sprites).
Anyone willing to help out will be included in the game credits.
BTW, the game is over 75% done, with probably about 8-10 hours of play time to finish the game (at top speed).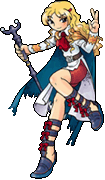 If interested, please let me know and sumbit a nude version of the above character actor battler.