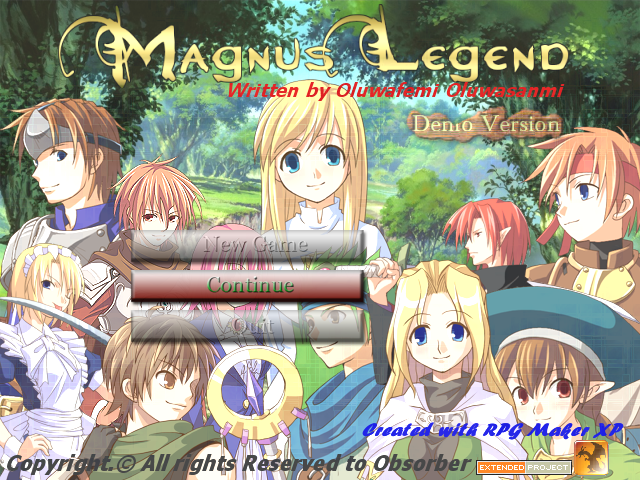 DOWNLOAD DEMO(256 MB):
MagnusLegendInstDemo.exe
Magnus Legend is a fantasy rpg game I am developing using RPG Maker XP similar to The Magnus Light another game I am developing. The game takes place in a fictional world known as Treter, however the storyline and concept is much different from the Magnus Light created with the VX engine. Magnus Legend is about a group referred to as the Magnick Warriors who oppose the dictator King Tharal who wants all those who have the ability to use magica, imprisoned and executed. His arguement for this cause is that he has a religious theory that humans are not supposed to possess such God like abilities and those who can use magica are actually demons. He says that this all came to him in a dream and because the King is seen as God's representative on earth according to Nuan beliefs, his soldiers willingly accept this theory and the civil conflict begins. The player takes the role of Stormwind Husa who is bent on getting revenge on the King due to his mothers death because of new laws that take away the freedom of Magnicks. One day Stormwind is unarmed and captured by the Nua Army then imprisoned in Natu Station. However he escapes, thanks to the Philosophical Alchemist named Artemus Shadowbreaker and joins his newly formed rebel group against the tyranny of the King.
RELIGIOUS WAR THEORY
The Game Theory
The Real Theory
MAIN CONTINENTS
Main Continents of Treter...
SCREENSHOTS
Screenshots
CHARACTERS
Quick Info
Character Bio's
CREDITS
Credits