Abstract:
You awaken on a starship and it's up to you to fix the ship and figure out what happened to the original crew and to the ship.
NOT a horror game.

Genre:
Sci-Fi Mystery
Platform:
RMXP

Patient, designated SR-18, is waken up by the starship's Hologram. The computer is unable to continue ship repairs without your help. It has constructed a hologram to interact and help you in your mission to repair it. You can choose to fix it completely or, when able, abandon it and its' sleeping cargo. You can choose to discover all its cargo and its mission, and why it's abandoned by its' original crew.
An abandoned starship dead in space.

[Starship Computer]
Age: Unknown
Bio: Has some A.I., however it is unknown how much intelligence or personality it has because it is damaged along with the ship.
(Not a major character, but you will interact with it and it will give small hints on what you need to do.)
[Hologram](Can rename it to suit what you want)
Age: Newborn?
Bio: It looks young, around the age 10-12, in construct and has some personal interaction skills. Has an interest in Earth 1920's culture.
(Can summon or prompt it for clues when unsure what to do by pressing [S] or to ask it questions as the story progresses. Interaction with it is limited to only halls or areas with a Holographic Personale Projection Unit)
[Patient SR-18]
Age: 27?
Bio: Other than being a patient she doesn't know much about herself. This could be because she just was brought out of an induced coma in stasis and it is taking a while for her functions to resume to a normal state, or she could have no memory because she didn't have one to begin with, or it was erased either willingly or unwillingly, OR it could be a psychological tool she used to forget something traumatic. (It's up to you to figure it out.)

-Alternate/Multiple Endings
-Alternate collectible uniforms from some sci-fi shows and anime.
-No battle systems, just puzzle solving and exploring.
-Original Artwork
-Some original Music
-No default RTP (if I can help it, some SE and ME's might be default but anything related to pixels and tiles and icons, are original)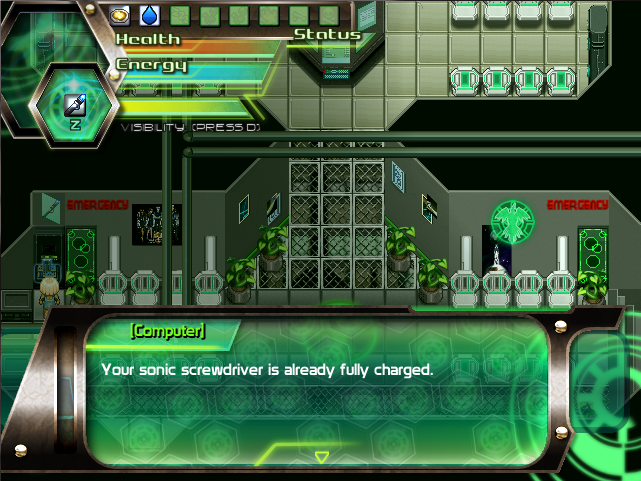 Mapping Example: Bridge
-Mouse Script by Near Fantasia and SephirothSpawn
-Modified Mog's Item Scene Laura(slightly modified to suit my menu)
-All other scripting = myself