Platform
- 2003
Story
Cognitive Dissonance is a fan game set in the universe of the EarthBound series.
(also known as Mother)
It takes place between the first and second games in the series:
after Giegue's first defeat yet before Ness's adventure.
It tells a story of Giegue's descent into madness and the
wandering band of aliens whoonce protected the Apple of Enlightenment,
in a chapter-based format similar to Mother 3.
I made this quite some time ago. Some people loved it, some people don't.
If you've got any interest in the series, give it a shot!
Characters
Alinivar: A blue, squidlike Mook alien who is unusual for his lack of psychic powers. Enjoys painting and later takes up the guitar.
Col. Saturn: Thinks he's a famous war hero... but is he, really? (Hint: no. But maybe soon he will be.)
Larice: A not-so-loyal Starman who has betrayed the forces of evil. The big attacker of the team.
Zarbol: A tiny, buglike creature that travels inside a small flying saucer. Talented with protective psychic powers.
Niiue: The mysterious benefactor and sometimes distant commander of the team. Of the same race as Giegue, but dresses oddly.
Screen Shots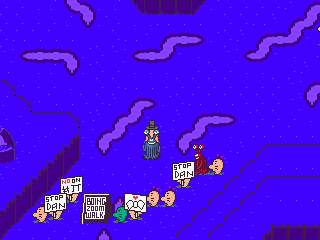 Features
8 chapters of EarthBoundy goodness.
Two endings, either one could be canon.
Secrets everywhere! Keep your eyes peeled and be sure to visit all 8 Points of Power.
Lots and lots of optional, Chrono Trigger style sidequests in chapter 7.
Also, you get a spaceship in chapter 3. Wooosh.
Download
CogDis official site
Credits
Notes
Map of Space
- it's easy to get lost.
Combinulator table
- for that pesky item combiner, save yourself the reloading!
There's a nasty bug with one of the many possible colorful spaceship encounters. Best to avoid those unless you've saved.