Engine: VX
Difficulty: Easy - Medium
What you will need for this tutorial: 4 States, 3 Switches or 1 Variable, 1 Common Event, 1 Skill
Are you sitting comfortably? Then let's begin. (Sorry, I've always wanted to start something with that line.)
So, to before we make our event let's make some states (can't make an event without them). For this tutorial we're going to make 4 states, but you can make as many as you need. Three of the states correspond to the animal/object/being that you want to transform into. The last state is necessary to make the skill work (at least for the time being, but I'm working on it).
States
So, I named the first state Morph. This is basically a blank state, you don't even have to name it, I just did it so that I remember what it's for. Make sure you tick the
nonresistance
box so you don't get an annoying 'state unnaffective' message.
Next we need our states that the character will 'morph' into. This can be anything you like, teapots included. For these you'll want to adjust the restrictions, the parameter changes, the options and release conditions. In the spoiler below you'll find a few examples.
State examples
Switch MethodThe Event Itself
Now that we have our states we can make the event, I'll do this step by step for simplicity's sake.
- Create 3 Switches (one for each state) and name them after the corresponding state.
- Create a new Common Event in the database and call it something like Shapeshifting Skill or Morph.
- Create 3 conditional branches like the ones in the screenshot below;
- Now, in the first branch for Bear, add some text that says something like "Transform into..." (optional) - I have to do it with the font I'm using.
- Under that add some choices. As Bear is the first transformation the character will learn, we'll just have one choice which will be Bear (or whatever you chose to be your first morph).
- Under that choice branch, put some text to say that the character has transformed, then change the actor's state to the Bear state we made earlier and remove the Morph state.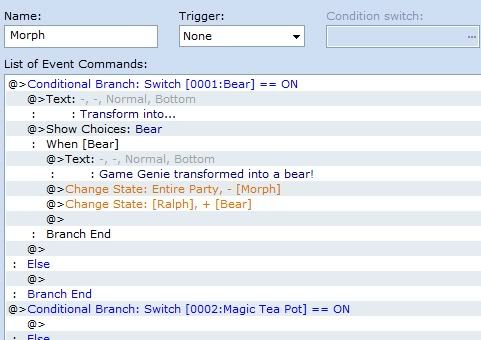 - Our other two conditional branches will work pretty much the same as this, but the choices will change. The screenshot below will show you what I mean.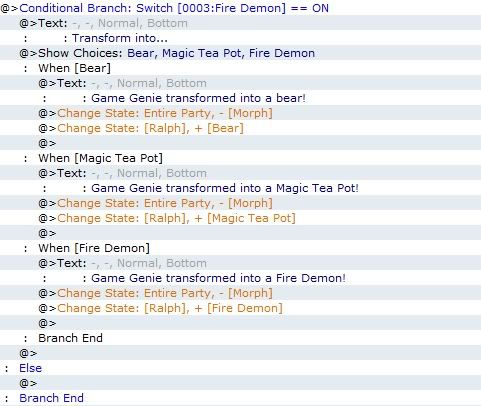 This completes the Common Event.
The Skill
Now we can make our skill, which is as easy as pie. Just make a new skill that looks similar to this;
Using the skill in switch method
Now, when your character first learns the shapeshifter skill, you must also turn on the switch that corresponds to your first transformation.
Don't forget, when you learn the next transformation you must:
- Turn on the corresponding switch
- Turn off the previous switch
Variable Method
This is for those of you who wish to learn transformations as you level up. I couldn't figure it out earlier, but I just figured it out now, so here's how it's done.
- Create a new Common Event called morph or whatever
- On the first line, create a Variable called Level and set it to the actor's level (the one that will be using the skill)
Note
If more than one character uses this skill you will have to create a common event for each character as well as another skill.
- As in the Switch Method, create three conditional branches, however, this time link them to the variable we just created with the following conditions:
1. Variable [Level] < 10 (greater than or equal to 1) - will be learned at level 1
2. Variable [Level] >= 10
3. Variable [Level] >= 20
You don't have to set them up with those values, you can pick an ascending values you like, I'm just giving my example.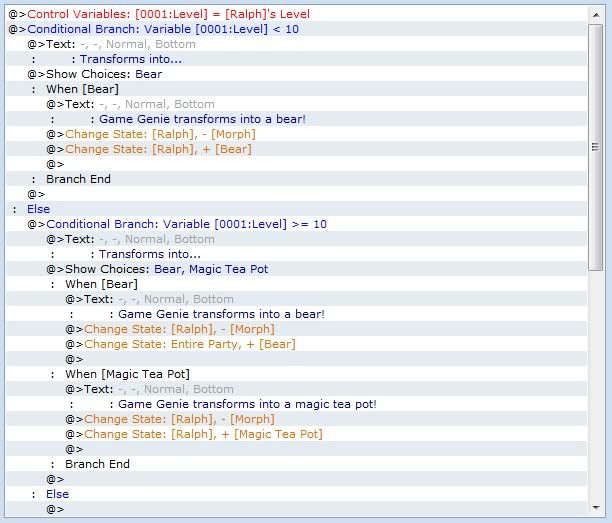 From here everything is just the same as in the Switch Method, only now you don't have to turn a switch on and off when you want to learn a transformation.
Note: You will need to follow instructions on this link in order to make this work.
If you have any questions regarding this event then don't hesitate to ask.
If you are having trouble with this event then be sure to state the problem and show the event as you have made it (I forgot to do this the first time I ever had a problem with an event, and people can't help if they can't see what you've done).
Special Thanks:
Alt_Jack for helping me fix the variable issues
scherzo, Aindra, GrandmaDeb, and BigEd781 for the Game_Interpreter script fix
Happy transforming