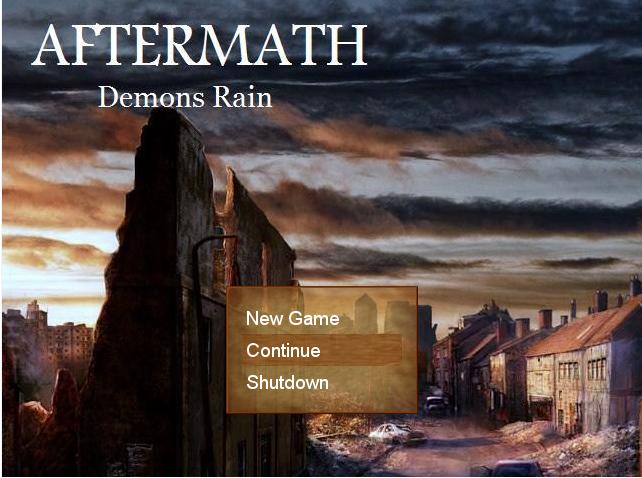 STORY:
Millions of years ago, Earth was a paradise were Demons, Humans, Animals all strived.But some people werent exactly happy with the inclusion of demons in there society, and knew to destroy the Demons, they needed a Demon, they summoned the godslaying Demon Ragnarock, only for it to backfire and cause the Apocalypse puting the world in a Post-Apocalyptic stasis.
You are Prisoner 362 a Fayer people who have the abbilities to call a special summoning demons, that will help you through your quest, a prisoner sent to Prison 5022, were criminals of the waistland are sent. After a prison break, you escape, and are charged with deciding the fate of the world.
CHARECTERS:

362: Is the main protagonist and the player charecter, a quite and mysterious thief who was sent to prison 5022, he is unknown and mysterious, the palyer has the choice to decide what to do during different outcomes and decide his fate.
Crack:Once a bodyguard to one of the richest man in the waist, he is a intellegient gambler, and is well known for being the jack of all trades.he traveles with his dog Leos
Leos: Is Crack's pet dog, who was with crack since birth, now trained to fallow amy move Crack has to give. Over the years Leo's has lost some body parts and brain function which were replaced by robot parts sewed into his body.

Lyric: Is a Master Martial Artist, and a sherif to an unmaed town, he is also a fayer just like 362, unlike Crack he takes things seriously and understand what it's like living in the waistland. His closest friend is a demon named David, and he has taught the poeple of the town to respect all beings demon or not.
Davd: Is a demon and closest friends with Lyric, his personality is kind and well hearted as well as caring, He wishes for the world to understand not all demons are evil, and he hopes Lyric can help him too. he is a genrderless humanoid demon, whose biggest dream is too find love, and have a family.

Jerich: Jerich is a female bounty hunter known all around as the greatest huter ever. She has a distaste for demons making an awkward confontation with David. She is light hearted and a bit light headed, at times even cruel, but she seems to respect demons regardless of her dislike towards them.

241: He is aswell a priosner in prison 5022, and the only other one who aswell gave up on his name. He acts rather awkward and at times creepy, His past is shrouded in mystery, and he is the most untrusting of the team, not much is knwon.
Larese: She is a once was hunter, and is the husband of the demon named Volvo, Who is later murdered she joins hopig to find the murderer, she aswell begans having a relationship with 362. she refuses to tell of her husband and how they met, she is also a Fayer, Her demons are known as elemntal beings.

One: Is a fayer as well and possibly the most mysterous of all, his job is simply to be the bodyguard of Vyn another party member, He does not speak only when using his spells.

Vyn: Is the richest scientist on the baron waistland,he conducts experiments on demons to see how they work and what makes them tink. He has a bodyguard named One, but even he knows nothing off his past. Vyn is donateable, kind, but lonely and depressed he is a fayer who has lived since before the world was tunred into a waistland due to a curse.

Varese: Is a Fayer whose parents were murdered by demons. Regardless she has learned to accept them in society, and blaming the worlds troubles on people who accused demons of casuing the world to turn into a waistland, she is a kindred free spirit.
Gameply: The game goes by choices, picking one things will get you an alternate route, and will gift you rewards, and bad luck.
That is All....