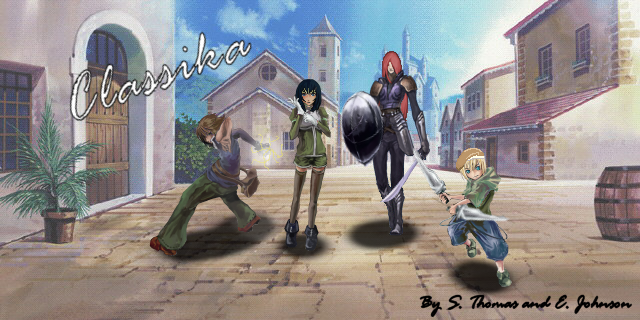 RTP Included

RTP Excluded
Controls
Z: Confirm
X: Cancel/Menu
Shift: Hold to run
Alt+Enter: Press for full screen.

Classika is set in a medieval, swords and sorcery time frame. While magic is known in the world, it is not a common ability. Those blessed with the capability to perform magic are usually offspring of previous magic users. There are two forms of magic; Sacred and Elemental. Sacred magic has the ability to heal allies as well as inflict punishment on enemies. Elemental magic is a bit more potent in the offensive area than Sacred is, but it also has the ability to effect weapons, armor, minds, and bodies to directly improve or impair abilities. There are 3 major kingdoms in the world of Classika, though Leah and Ethan's story take place in the Kingdom of Atalaria.
The game begins inside of Wollen, Leah and Ethan's home town, where they are requested to go into the field to retrieve some ingredients for the local alchemist.

Leah
Ethan
Vance
Pockets
Story

Screenshots(15)

Additional Credits
Any and all feedback would be greatly appreciated. If you would like to make use of any of the artwork or sprites we have implemented, send us a PM and we will provide them directly to you. Just please credit us somewhere as we try to credit others for what we have used or edited.

RTP Included

RTP Excluded
Support Classika by adding this banner to your signature.
CODE
[url="http://www.rpgrevolution.com/forums/index.php?showtopic=50002"][IMG]http://img.photobucket.com/albums/v465/kalyfa/Classika/ClassikaSupportBanner.png[/IMG][/url]