Munkis' Actor HUD
Version: 1.3
Author: MunkisRelease Date: 01/03/2011Exclusive Script at RPG RPG Revolution
Introduction
Displays character's face, name, and states in the top-left corner of the screen.
Features
Use Input::X to toggle the appearance of the HUD, and cycle through party members with Input::Z Use Input::Y to do a one-time update of the HUD if $game_system.always_update == false
In version 1.3, you have the option of disabling the button toggle with
CODE
$game_system.keep_static = true/false
in a script call. You can still hide the hud manually with
CODE
$game_system.show_hud = true/false
Script
Munkis' Actor HUD
Customization
Look in the script; what little there is to be customized is pretty much self-explanatory.
Compatibility
If you set the first and second values of the second array to "true", you will need to include an image. Likely incompatible with other scripts that do the same thing.
Screenshot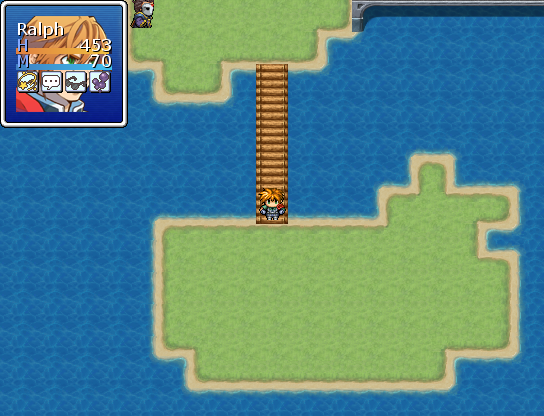 (That one is a bit outdated, as it was taken before I updated the script for animating the states.)
DEMO
Not needed; it's a pretty simple script.
Installation
Place in the "Materials" section right above "Main".
FAQ
Q: ZOMG teh scriptz doesn't werk!!!
A: First of all, be more specific. Second, any and all reports typed in chat-speak or 1337-speak will be ignored.
Terms and Conditions
I don't mind my scripts being posted or linked on other RMVX sites
AS LONG AS YOU GIVE CREDIT!!!
Same goes for using this in your game. Contact me if you want to use this in a commercial project.
Credits
I did most of the work, so credit me please. IceDragon did help with animating the state icons, so credit him too if you like.