Basic Information
Engine:
RPG Maker 2003
Type:
Battle System
Difficulty: Advanced Users Recommended
Producer:
Zinx10/Zinx_therpgmaker
Materials (Alpha)
-Common Events 1-30
-Switch 1
-Variables 1-200
-Pictures
-Charsets
What Do You Need To Know? (Alpha)
Variables, Conditional Branches, Switches (Maybe), Messages, etc.
Features
-8 character support.
-picture or charset as your character. YOUR CHOICE!
-HP/MP bars (maybe more).
-10 Enemies allowed (maybe more).
-10+ skills allowed to be equipped at a time.
-Customizable options.
-Almost everything is customizable.
AND MORE!
Statistics
HP = Health.
MP = Magic Points.
ATK = Physical Damage Strength.
DEF = Damage Reducer to ATK.
DEFA = Defense Addition only when you defend (May be deleted.).
MATK = Magic Damage Strength.
MDEF = Magic Damage Reducer to MATK.
SPD = Speed determines turn order (May be deleted.).
DDG = Dodge Percentage. A Set value. Out of 100%.
CRIT = Critical Damage Percentage. A Set value. Out of 100%. You can set Critical Damage Addition.
(Maybe More Statistics.)
How Battling Works
When you start out, you are given a menu. You choose an option, like a normal RPG. If you choose attack (You choose name), it will show a cursor. That is where you choose an enemy. If you choose a skill/magic (You choose name), you choose a skill, then choose the enemy. Choose defend, and then your defense increases (Increase amount chosen by user.). You may also add commands. After your turn, it goes onto the next. THIS BATTLE STYLE IS NOT ACTIVE.
Version Ideas
1.0: The basics, including charsets are usable. Simplistic Graphics
1.1: A little more, including picture enemies.
1.2: Even more, including picture heroes.
1.3: Maybe more stuff, better battle menu.
Screenshots (Alpha)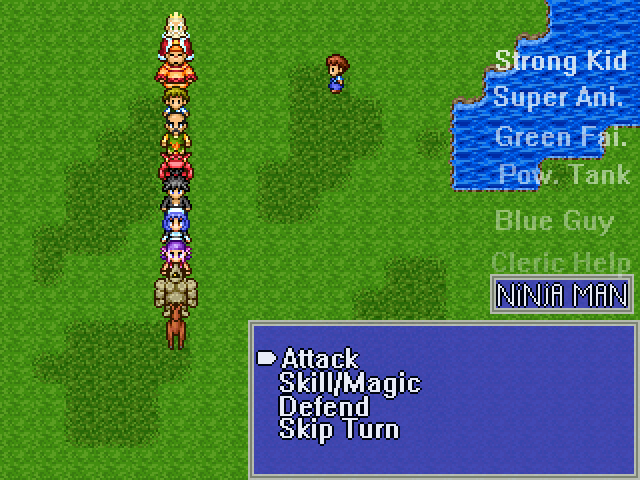 The turn decider is not finished.