Introduction:
This is the new update to Wortana's Save System. It's my favorite save system in Rpg Maker XP and VX combined, so I had to try and improve it.
Features:
- Use premade images for save slots.
- Unlimited save slots, you can choose max save slot
- Many configuration options
- Swap tile support
- You can use image for scene's background
- Choose your save file's name, and folder to store save files
- Choose to show only information you want
- Editable text for information's title
- Draw tile map for map that player is currently in
- Remove text you don't want from map's name (e.g. tags for special script)
- Choose map that you don't want to show its name
- Include save confirmation window before overwrite old save
What was added:
- IV: I added more configuration options, more notes, and swap tile support.
- V: Added screen shots back and added an option that can alter where your screen goes when you save.
- VI: Added two new enhancements and cleaned up code, check script for further details.
Screenshots: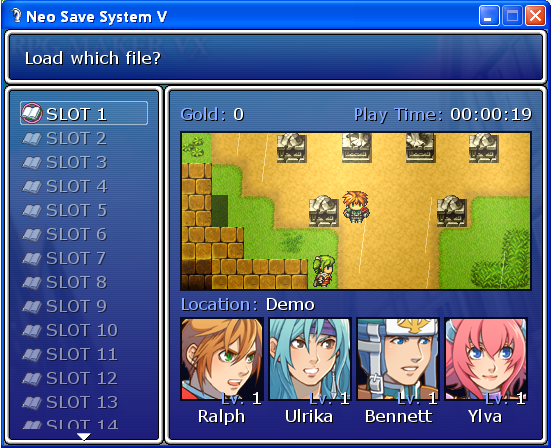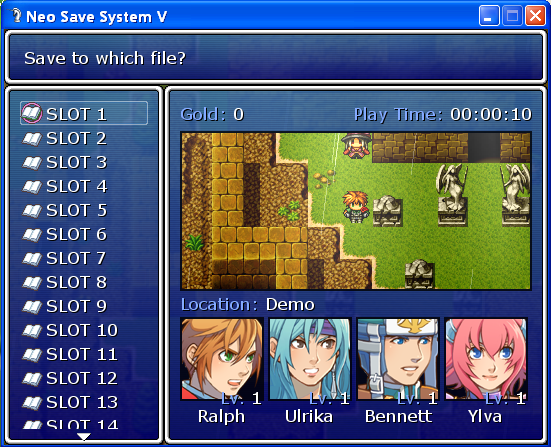 Demo:
Click Here
Script:
Click Here
Commercial Usage:
Not intended for commercial use, ask Wortana (he is no longer active) for permission. You may have to ask some of the other authors if you use the screenshot method too. You do not have to ask me for permission, no credits or anything.
Another other questions or suggestions just post!
You need the attachment below if you just got the script.