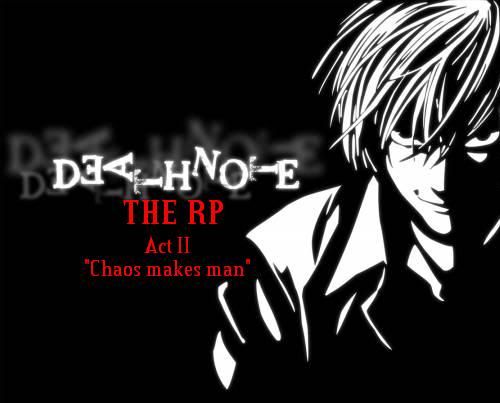 First of all I would like to let everyone know this is for entertainment purposes.
This story is different than Sparrowsmith's
. Please do not include any of his work,
without his permission
.
Now open! Once you are done registering you may post! Search the RP archive for act II.
Anyway on to how this will work:
You will be able to make one character.
Once you have solved who is Kira, the game will reset and you will be able to remake your character if he or she had died.
Every game I would like you to change characters. All of you are private investigators across from the world, and plan to stop Kira.
Whammy's house has nothing to do with this anymore.
This thread may contain spoilers to the anime/manga, I suggest you finish the series first
.
One of the investigators will start off with the Notebook, I will secretly choose who.
All of these investigators are in Japan, since there's a strong possibility Kira is Japanese, due to the first Kira being Japanese.
When, a person writes in the Death Note, he or she will let me know, and I will make a over all post in red saying who has died and how.
These investigators work separately, however you can join forces if it might be easier for you.
Sign up sheet:
Fake Name:
Age:
Description of looks:
Rules:
This is more of a game then an RP, please do not describe your detective's life story.
There can be more than one Kira, however I decide who is Kira and who is not.
If you die, you will have to wait t'ill the next game to play again.
Once you die, you are dead. Please do not make another character t'ill next game, you can only have one character per game.
You are able to give the Death Note to someone else, PM me to who you want it to send to, and include if you want the player to know who
you are.
New Death Note Rule:
Who ever comes in contact with the Death Note shall forget of it's existence once the owner has passed on.
If the owner is to give up ownership of the Death Note, everyone will still remember of it's existence until he or she passes away.
People who have heard of the Death Note, and have not came in contact with it, will still remember of it.
If you have lost the note book.. you have 400 days to retrieve it, as normally. However, who ever picks it up, the ownership shall temporarily transfer. You will still have all memory, however if the new temporary owner dies.. all memory of the book shall be erased.

If you have any questions please don't hesitate to ask.
Also, I am in the position called Game Master, everyone will be able to be a Game Master every game. I will start off as a Game Master, once the first game is finished Kira shall become the next Game Master.
Please do not Kira mod, in other words don't say Kira killed people without Kira doing it.
NEW RULE: MAXIMUM OF THREE CHARACTERS WHEN ONE DIES, YOU MAY NOT USE HIM OR HER ANYMORE.