Hello y'all
Did you ever want to create an Item that may be used more than one time?
You can now! And with events
Here it is:
1.
Create a new item that you wish to give charges to.
Mine is a Fresh Water Bottle.
I gave it the name Fresh Water 2/2 (Because it can be used twice)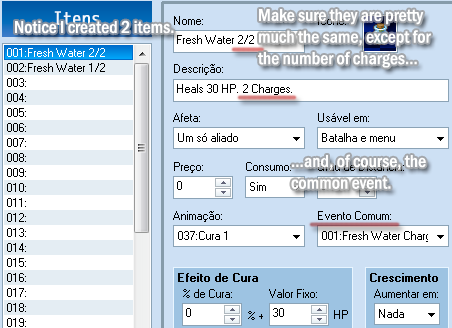 2.
Create a new Common Event, and give it a name you can associate to the item you're giving charges to.
I called mine Fresh Water Charges.
3.
Go back and only add that Common Event to the first item (since mine has only 2 charges, the last one will end its use).
4.
IF you want more than 2 charges, you'll have to create
N-1
Common Events for N = number of charges, and add them to their corresponding items:
You create Fresh Water 5/5, add a common event that gives you Fresh Water 4/5.
4/5 has a common event that gives you 3/5, and so on.
There might be a script that does this, but this is the eventing way.
If I ever learn scripting, I'll surely make one of these right away.
PS: Don't mind my Maker's language, it's in portuguese and I do not know how to change it :/
Hope it helps! See y'all