Organising - Development of Your Story
(Summary)
In this article we'll look at creating a simple yet effective process to organise the development of your story; keeping things in order, setting up a variable timeline, compiling your timeline and compensate for future story alterations.
Helping to avoid those development blocks during creation.
1. Mapping out your story
2. Timeline sticky notes
3. Getting from A to B
4. Compile everything together
5. Important ideas and concept alterations
6. Revise, review and requirements
Mapping out your story
Most of the time you know what you want to happen within your game especially at the beginning and how it's going to end, that's a great start and sometimes the least challenging part of the development.
As you start to progress most people fall into the trap of making it up as you go along. This method can sometimes lead you to a dead-end, or if you do manage to get to your finishing point reviewing the content it may appear to be as organised as spaghetti.
An essential part of your story is sometimes that part ignored by most, the heart of the game. Placing time and effort into getting things organised such as events, introduction of characters, twists and travels is something that will help grip the player into your game.
Here are some simple and useful stages and ways to keep your story organised and help you in the long run if things need altering or for those that tend to forget things easily.
Timeline sticky notes
Getting everything in order and selecting where you would like things to happen in your story without it altering the flow can be a daunting task, here's a little tip to get things off to the right start.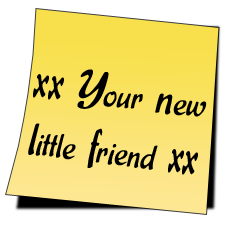 All that you need to have is some sticky notes and some paper. This simple yet effective process can help you get organised right off the mark and save you less hassle later on in development.
Simply write down important story related comments for example: "Addition of Mr.Smith to the party", "Plot twist: Everyone's really the person they thought they weren't". Sorting these either onto paper or in a neat pile is a great way to keep track on where you are heading to with your story. Once you have an idea on what goes where make a distinguishable mark as to whereabouts this takes place, this could be anything from numbering to alphabetising them.
Remember keep them safe, or make a note on a separate sheet of paper because you might misplace them.
Getting from A to B
Now you should have your basic story time line set up, here's just a little example of what sort of thing yours should look like:
Not really giving you any indication on how to progress though is it?
Well this is where the next stage comes in, how do you get from "e -One element is so sorry for the trouble and joins you" to "f Mr.Bad guy captures that little element person"?
Well in order to do this you do need your imagination and creativity, perhaps that nice little element person knows the location of Mr.Bads hideout and is captured there, or Mr.Bad is following you all and sees the chance to grab the element person whilst it's with you. Whatever it is you decide to go with, make a note of it. There's several ways you can continue from the sticky notes system either; place another sticky note between the two on the paper, write a small explanation on the paper between the two notes or create a draft final timeline linking each part with several possibilities.
Just be aware not to use too many sticky notes, it can soon become overwhelming and your basic time line ends up looking like pile of hay.
Don't worry if you want to include more information, that's up next.
The great thing about using this simple method is that at any point you'd like to change things around and compensate for unexpected changes you can alter the timeline quickly without much if any rewriting at all.
Compile everything together
This part is very much like a walk-through only it is for your reference only, grab yourself a little notebook or something similar and only focus on small descriptive motions that the story will follow. Including speech can become tedious to read over at this stage so try to summarise any important dialogue that the player must read, such things like "After fighting the Element, it explains the position it was placed in and against its wishes had to fight". NPC speech and other similar text can be considered irrelevant at this stage, such things as telling you where to go and what path to take, you can simply write it as "You find out you must enter the North cave to find Mr.Bad guys hideout".
Try to remember whilst writing this it's not how the player does this it's mainly what path the story takes, getting carried away with things like puzzle solutions and locations of quest items can become a problem and time consuming. Some of these things you may not want to include later on so it'll save you time in the long run.
Important ideas and concept alterations
Try to keep these separate at the moment as you're compiling your story, on the spot important ideas and concepts may seem great at first but if it's not what you've planned for then you may find yourself rewriting a lot of what's to follow. The same goes for any alterations, something that may seem small and insignificant may end up causing a lot more problems than good.
Make a note or a symbol within your notebook as to where you have considered using this new idea or concept. You can either write this out on a separate piece of paper or alternatively you can always write these things down in the back few pages of your notebook so you don't lose them.
R3 - Revise, Review and Requirements
This is the time to go back over after you've completed the previous stages. There are several things that you can do now at this point;
Revise
- If any parts of your story seem off or out of place then here you can change certain elements to make it flow accordingly. Correct any errors that the story contains, just for example if there's a major contradiction as in the hero has always brave and strong but you've got him crying in the corner at an earlier point in the story. Go through your newer ideas and see if these would be better used rather than what you have at present, incorporate these and make any future alterations if it's required.
Review
- Re-evaluate your final version of the story, check to make sure if you did make any alterations then everything still fits nicely together with the overall story.
One main question you can ask yourself at this point is, are you happy with the outcome? If not then look back over and check the areas you're not happy with, think of possible alternatives that could be done to help improve areas.
Requirements
- You've got the story in order and how you want it now comes the start of actually developing the game itself, you should think about if you're capable of doing a lot of the things required. At this stage you may even be thinking about incorporating certain scripted features and or graphics. If you're not able to do these things yourself then here's some things you'll need to consider; would the support be available to you? Can you produce enough of the project yourself so that it would give other people incentive to join in a collaborative team effort? Can you still continue with the completion of the project without the additional support?
The last question is the most important one of all, you can't depend on support with the project hanging in risk of coming to an end because it's not available. Make sure you have alternatives available if such a case arises. It may not be exactly what you'd have liked but at least you can go over once complete and include features if the support becomes available.
Author - Holder