Index
I. Index
II. What you need to know
III. Starting the menu
IV. Working on the ability to equip stuff
V. Working on going to the menu
VI. Working on leaving the menu
VII. Working on taking off annoying glitches
VIII. All the Add-Ons
What you need to know
- Switches
- Variables
- Memorize Position
- Recall Position
- Key Input Processing
- Conditional Branch
- Healing
- Adding Health to your parameter
Starting the menu
First, create a map, and call it
Main Menu
. Second, you import this Chipset, and create the Chipset, also you must use this tileset.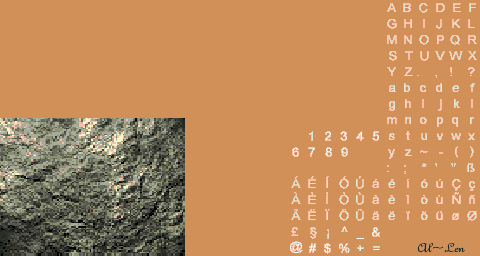 Working on the ability to equip stuff
For each object that you can collect, you must make a switch, and I normally name the switch the item's name, and make it where the item appears if the switch is on. That is all, you can also make like multiple keys using variables.
Working on going to the menu
Go to common events, and make a parallel process event that forbids the original menu. Second you create another parallel process common event that calls the next common event by pressing the cancel key. Just make the next common event have to be called, and make it look like this.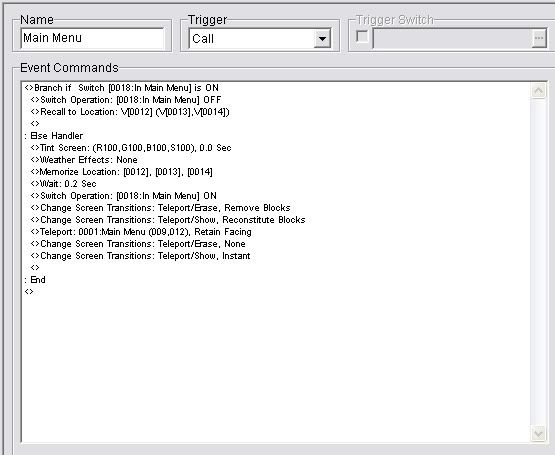 There you go.
UPDATE: Thanks to Fiercedeity, here is what to do with the pressing key part.
Working on leaving the menu
Make sure you do all of that in the picture above, and you will be able to leave, have any questions about the picture? Ask me.
Working on taking off annoying glitches
This is easy, for that one that calls the main menu thing, you know, the one with the picture, make a switch that if the switch is on, you can go to the menu, otherwise you can go to the menu in the middle of a cut scene.
All the Add-Ons
There will be more add-ons made later.