The world map, or over world, is a crucial element of visual game design. They are used to display the players traveling a great distance, whether its to enter a town, to cross a region, or explore a dungeon. In this visual tutorial I will explain, step by step, an easy way for world map veterans and beginners alike to come up with their own, unique over world using a technique I discovered.
For this illustration, we will be using RPG Maker VX. Reason being, it has great world map tiles which display a sense of distance, while providing you with simple yet effective autotiles for creating your own world map. Upon creating a new RPG Maker VX project, the first map the game will give you is a 100x100 size map known as MAP001.
Step One
: Idea
First, you'll need to start with a rough idea. Know what kind of continent you're going to create. Whether it's snowy, arid or green, have an idea of what kind of continent you'll be crafting. Here's an example of a world I'm crafting for one of my titles.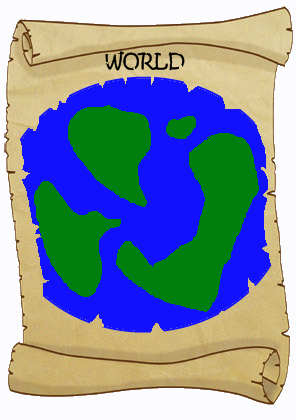 Step Two
: Crafting the land
You will need to select the plains over world tile set from tile tab A. If you're an RMVX user, you know what this looks like. After selecting the over world plains tile from tile tab A, select the "circle" draw option from the top of your editor. Now zoom out to 1/4 display. This gives you a wide look over your creation.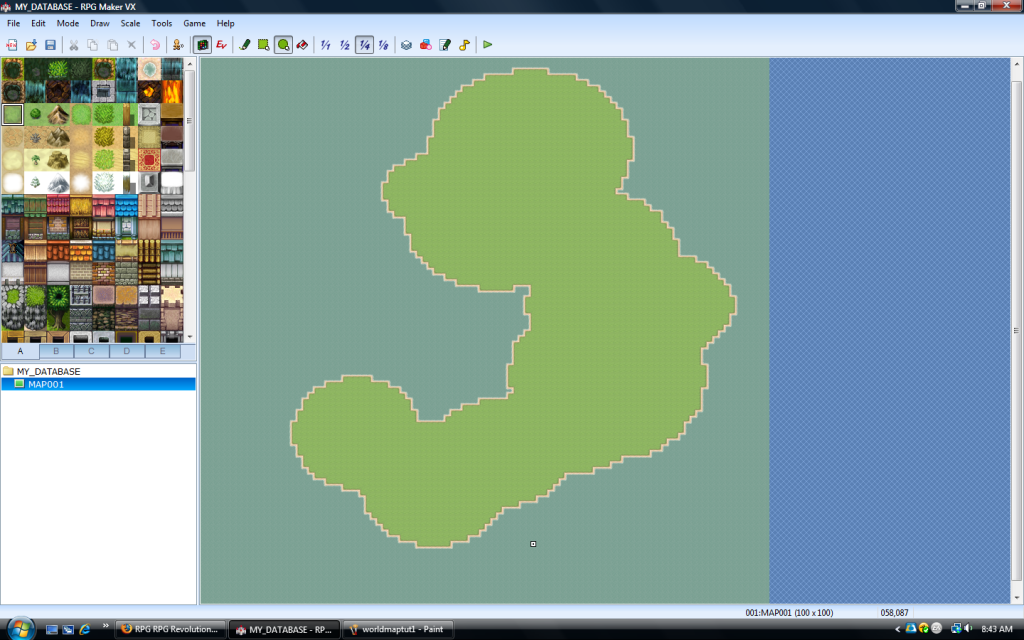 The first outcome of your craft will look bulky and unattractive. That said, the next part of your crafting experiment will require you to select the water auto-tile you will be using for your sea. After selecting the water tile, you will remain using the circle draw option. Now form circles, starting from outside your land, and use the water tile to "cut in" to your plains tile. Continue to do this throughout your entire continent. Try to be unique while cutting into the land with the water tile. Mix it up, maybe small circles here, maybe a wide oval there.
At this point, you'll also want to add any beaches to the overworld which you intend to utilize on your map. You don't need to outline all of your grass titles with beaches. You have two options: outline every grass tile with the beach, or outline only certain points where the beach stretches far into the plains. At the end of step two, this is what your continent should look like: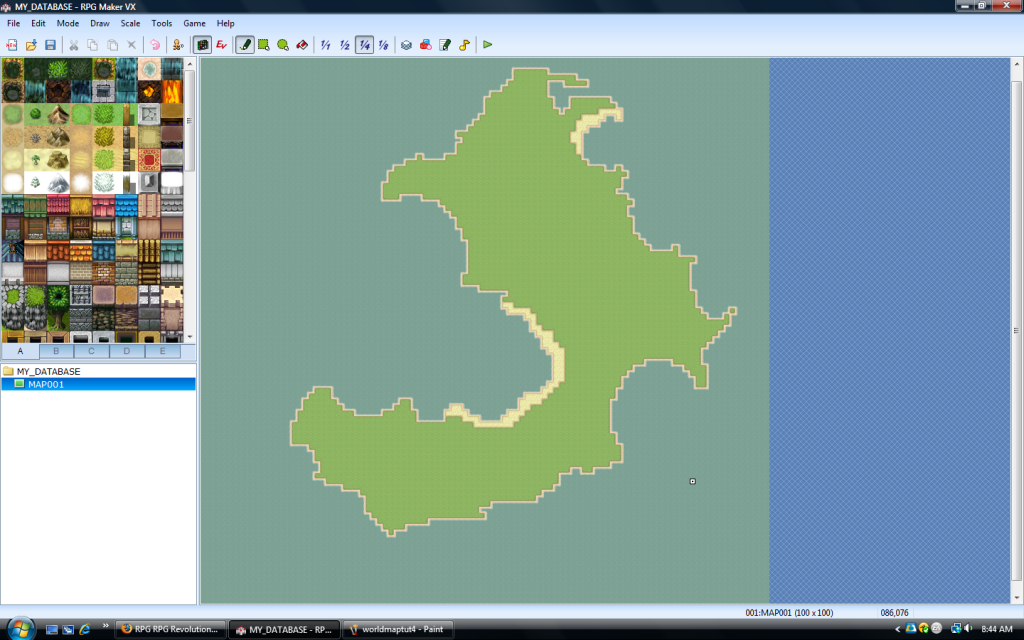 Step Three
: Mountains and Forests
Now you will need to place mountains on your world map. Instead of using the circle draw tool, go back to the single-tile draw tool. Now, wherever you wish to place a mountain, outline it with your mountain tile, and use the "fill" tool to flesh out your mountain range. Don't be shy about placing a lot of mountains in your game! Your world map should now look something like this:
Interesting, but a bit bare. Now you'll need to place forests on your continent. Select the over world forest tile from tab A of your tile selection, and begin creating outlines of forests on your map. A good way to do this is to outline your mountains with trees. Use the draw tool for this job. At points where you have a large area where you want to place this forests, use the fill tool to fill said blank space. Also, to create paths in the forest, first fill in a large mass of land, then select the grass/plains over world auto tile, then use the single tile draw tool to cut little paths in and out of the forest.
If you wish to add water on top of your continent - rivers and the like - now is the time to add them. Be creative while placing water on your over world. Maybe add a water fall here and there. At this point, your continent should look like this: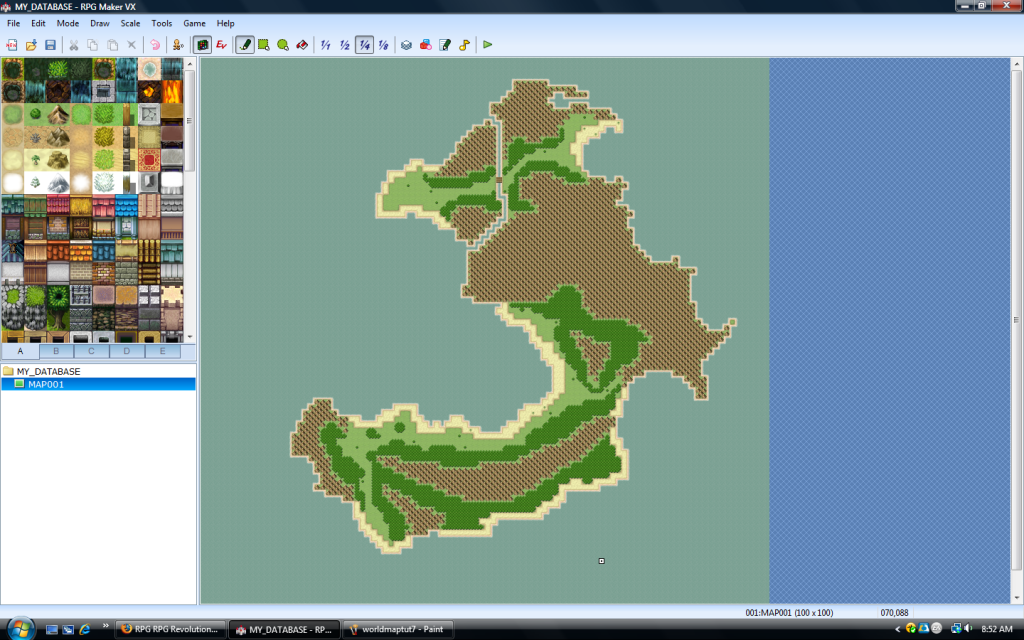 Step Four
: Habitation
Now you will need to create towns, cities, castles and the like, and add them to your map. Do this now.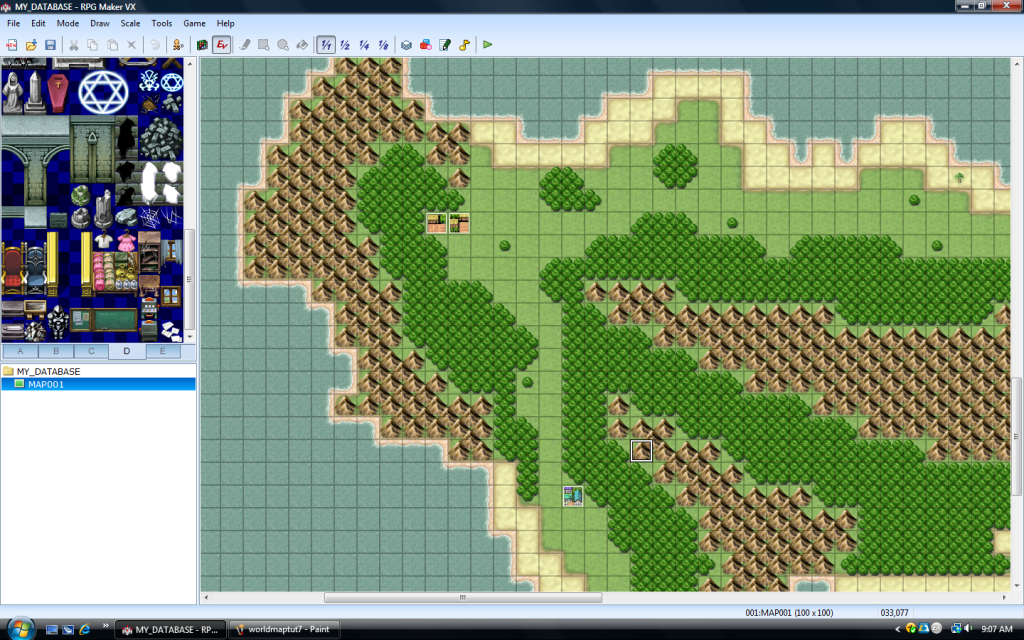 Place villages, farms, caves, towers, and everything else you'll need for this continent. Remember, step one tells you to have a rough idea in place. Have a cave in your game which needs exploring? Create the entrances now. Have some keeps the players need to adventure into? Create these now. This is, perhaps, the easiest yet most difficult step of creating your continent. While you're not placing mountains and forests like step three, you are creating the destination of your players. Place towns where you believe they should go while giving the players a sense of exploration. Need to travel to a bustling merchant town? Maybe that town is near water, or on a port? Traveling to that abandoned keep? What kind of abandoned keep would have twelve cities tucked around it? Keep location and distance in mind while playing your own.
Completion
Now it's time to explore your world! Hop into this land with a character and walk around your map. If it's a particularly large map or has multiple continents, maybe you'll throw in an airship for testing. Now that your world is complete, there are only a few more tips left to explore.
Miscellaneous Tips and Tricks
1.
To dash or not to dash?
Personally, I turn the dash feature off for world maps. The idea of a world map is to cover a great distance of land, and setting it up where your players can zip across the over world, well, takes away that sense of distance. The exception is, of course, vehicles, ships and airships.
2.
When should I use a vehicle, ship or airship?
That's entirely up to you. The airship comes in handy for crossing continents near the end of the game. This gives the players an opportunity to travel anywhere they want in your world. The ship is a great way to cross ports early in the game. The vehicle is a wonderful way to traverse the world map in a short amount of time.
3.
Should my world map be big or small?
I go with big. With well orchestrated geography, you can create an interesting world map worth exploring. If you're walking two steps and entering the next town, you're not exploring; rather, this generates the same feeling you get when you play Arc the Lad, and you point out, on a small map, where you want your party to auto-travel to. Making a small map is always an option, but to me, it's not an option which allows the player to explore.
4.
Can I make my map too big?
Yes and no. Rather than saying "too big," a better descriptive term is "too bare." If you have a humongous over world for your players to explore and there's nothing interesting on it, you have a "bare" world map. The reason why step four is so important, is because you need to give the players a reason to explore this over world. For example, maybe you'll want to add a bonus cave for your players to explore? Maybe there's this dungeon unrelated to the plot line, and at the end of this dungeon is a powerful spell? Maybe there's this secluded town with no purpose in the story other than farmers telling you about the history and culture of their town, or perhaps giving you access to beneficial items you wouldn't find if you followed a linear path.
Remember, Exploration is key!
Give players a reason to walk one more tile! Give them a reason to want to look beyond the horizon. If they stick to the linear path, perhaps they'll miss out on a chance to visit a decrepit keep filled with homeless mercenaries? Or perhaps there's a bandit camp which needs pillaging? The choice goes into the hands of the creator who's soul purpose is to breath life into a lifeless world, and to mold their continent into something which their players will enjoy for hours on end.
And speaking of enjoyment, I hope you enjoyed this world map tutorial. Until next time, there's some exploration I need to get back to.