BOF Cross Command
Version: 1.1
Author: Jens009 base from blazingamer
Release Date: July 29, 2008
Updated: August 5, 2008

Introduction
Requested by: comeonman1111
Replaces the old command window with a picture oriented cross command window
Features
- A Cross Command Window that contains the following battle actions:
- Attack
- Skill
- Item
- Defend
- Escape
- Left Justify feature
- Blur Commands Feature (Only applicable to Battle Deactivation Patch)
- Should be compatible with other battle add on scripts since methods were aliased. (Except for one. Look at script for more info)
Script
[Show/Hide]
Battle Command Deactivation Patch Version 1.1
Customization
You can change the graphics of the icon by replacing the current ones from your
Graphics/Pictures folder.
Simply change the icons with a 32x32 picture that has the same corresponding name
The icons name's are as follows:
Attack.png
Magic.png
Defend.png
Items.png
Run.png
When changing the names, remember, ruby is case sensitive so make sure you input the correct cases.
Compatibility
Two methods that are rarely used were aliased to increase compatibility.
Only one method was directly changed (to be specific, I had to delete a line). This method isn't use that much anyway. Refer to the script
for more information.
Screenshot
Well what do you know? It's compatible with my Enemy HP windows. XD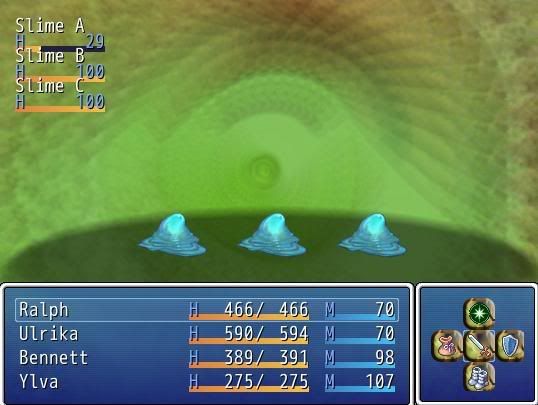 LEFTJUSTIFY = True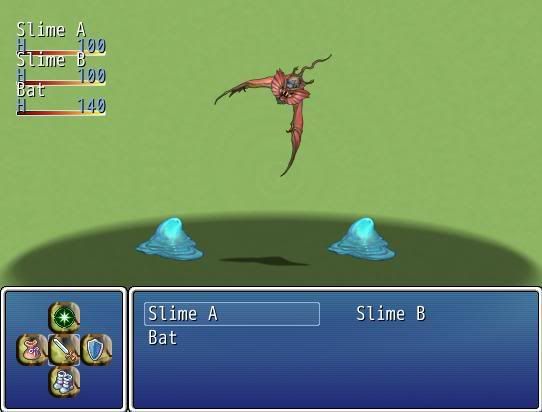 DEMO
None Needed.
Installation
Copy the script and paste it above main and below any Battle modifications
Save and paste these to your Graphics/Pictures folder.
The images should have the respective names of:
Attack.png
Magic.png
Defend.png
Items.png

Run.png

FAQ
I have a 1337 suggestion.!!1
-Post it up and tell me about it. =]
There'zz a cockroach in urr systemzz
-Post it up and tell me in detail:
How it happened
What did you do before it happened
What scripts do you have
What scripts do you think is conflicting with it.
Anything that you think might helpful.
Terms and Conditions
This script is for non-commercial use only.Contact me for commercial uses (No. I don't want your money)
Give credit to where it is due or I'll use Geass on you.
The script is exclusive to RRR.
The script is free to be modified by if you are to repost the script with said modifications, contact me.
Unless those terms are followed. You are not allowed to use this script.
Credits
Jens009: Translation, Modification, Iplmentation
Blazingamer: Script Basis.