Extended Status
Version
v1.0
Author
SojaBird
Release Date
v1.0 > 10-07-08
Introduction
Adds the Effects gain from equipment in the statuswindow.
Features
v1.0
- Determine the place and text
To come features
- Only on request.
Script
Click to view attachment
Customization
All the customazation is explained in the script self.
It's easy to use.
Read the comments to know how to customise the script.
The setup in the script starts from
CODE
#############
# Start SETUP
#############
and ends with
CODE
############
# End SETUP
############
Compatibility
VX only.
Screenshot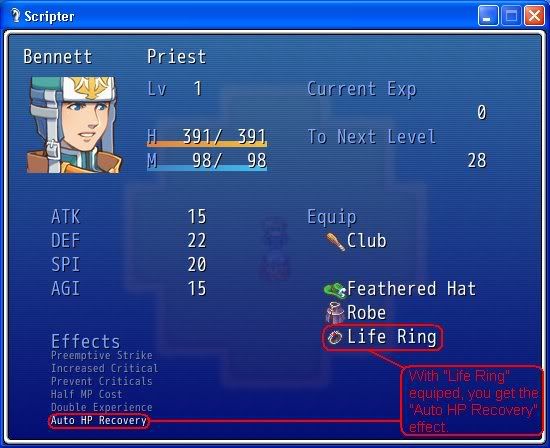 DEMO
Not avalible.
Installation
Put the script above main.
Customise the script to your needs.
Credit me pls.
FAQ
Yet 2 come.
Terms and Conditions
Credit me with site, and the script is free for use in NONCOMERCIAL projects.
If anyone want some changes, please pm me or post it here, I'll track the topic.