Status Enhanced
Version
v2.2
Author
SojaBird
Release Date
v1.0 > 23-05-08
v1.5 > 26-05-08
v2.0 > 04-06-08
v2.1 > 24-08-08
v2.2 > 26-06-09
Introduction
This script is from a request from @speed. I just made it a bit more customisable so that it could be use by any of U.
Features
v1.0
- Pluy and Play with customasation options avalible.
v1.5
- Fixed the in battle-bug status. It's useing the old battle-status now.
v2.0
- Better compatibility with other scripts.
v2.1
- Fixed the facesize. Useable by all size of pictures.
v2.2
- Fixed states and added exp2nxtLV
To come features
On request only for this one.
Script
Click to view attachment
Customization
The whole setup is in the script self.
All you have to do is change it to your own style.
the setup in the script starts from
CODE
#############
# Start SETUP
#############
and ends with
CODE
############
# End SETUP
############
Compatibility
VX only.
Screenshot
v2.1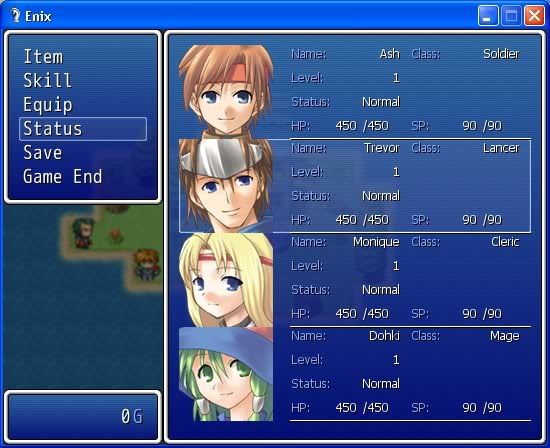 Installation
Put the script above main.
Set the script up by changing it to your project.
Credit me pls.
FAQ
Non jet...
Terms and Conditions
Credit me pls with site, and the script is yours.
If anyone want some changes, pls pm me or post it here, I'll track the topic.